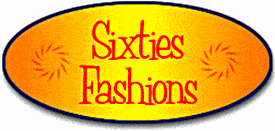 Make up
See also: Eye Make up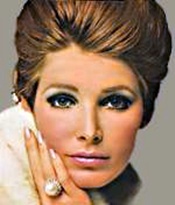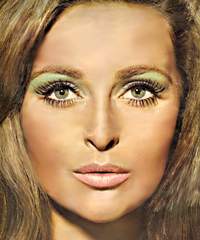 1960s Fashion – Make Up   At left, the perfect 1960s face. Dramatic eyes, featuring mascara used heavily, producing spiked lashes. Shadow is colored or dark. Skin is pale, often from foundation or powder called "translucent." Lips are pale or glittering, rarely showing dark shades.
Below, a very dramatic evening make up. Again, the focus is the eyes.
Now you might well ask, did real people wear this much make up? At night, maybe. By day, it was unlikely that anyone would take the time involved to get that dolled up. Although in general, a 1960s look required more woman hours than you would care to devote today. You probably wouldn't wear false eyelashes but yes, the blue and green eye shadow would be among your make up tools.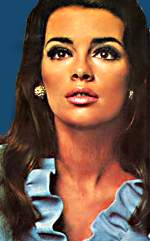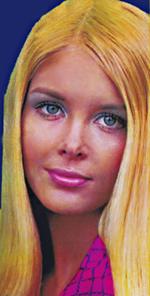 The make up on the girl at left is more reflective of an everyday look.
From an ad for lipsticks (below), the girl has the pale lips and colorful eyes of the time.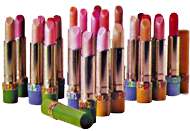 From Revlon 1969
Un-noucing 'Un-Lipstick" by Natural Wonder. It's pale but the shine won't fail. Bare, but the color's there (and never, never changes on your lips.) In gleamy little mouth colors like Ivory Blizzord, Frozen Peaches, Sheer Shaver Pink and Nothing Frosted. 24 shades in all.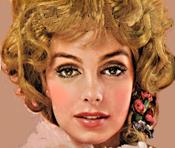 And this look from Avon, 1968
Wear Avon's Ultra Sheer make up…shimmering, translucent. expressive. In today's beautiful new pink tones, these Ultra Sheer accents and basics are all subtly color controlled by you.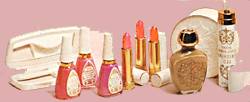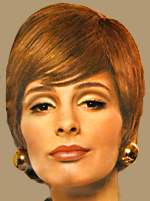 From Helena Rubenstein 1967
New Metallic Rage! For lips – three precious metal tones. Bronze Rage! Gold Rage! Silver Rage! Plus three shades that hint of glint, rage with color. For eyes – Shadow shades that reflect the shimmer of your smile. Bronze Rage! Gold Rage! Silver Rage!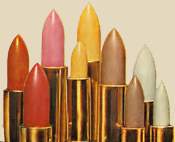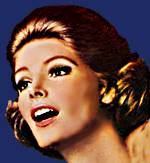 From Max Factor 1967
Brightnings! Eye Shadow Sticks (on right) Iridescent Beige Mist and Misty White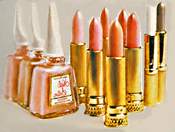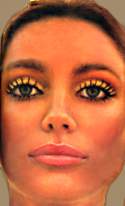 Left, a more dramatic look. Sun bronzed was the effect. Remember, in the Sixties having a tan was a good thing with warnings of sun damage still in the future.
Here was the make up technique for the picture left:
Golden bronze eye shadow goes on with an applicator and is buffed to a shimmer. Add long spokes of false eyelashes. Polish your lips to a high luster.
At Right, a classic 1960s look.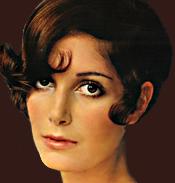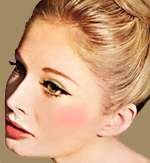 Two more 1960s faces.