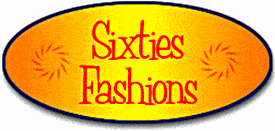 Eye Make up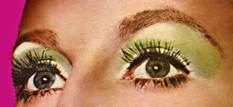 1960s Fashion – Eye Make up – The eyes were the focal point of the 1960s face. Great long heavily mascared eyelashes, often supplemented with false lashes. Eye shadows in the blues, greens and browns. A dark crease. Eye liner was dark, often black, and thick.
If you have a party to go to, I have provided several closeups of Sixties eye make up so you can replicate the look.
Believe it on not, the bottom look was specifically advertised for day. "City Day. Take two tones of smoke shadow and drift the lighter gray around the inner corner of your eye, under lower lashes and straight up and out to your hairline. Swirl the darker dusky smoke on your upper lid, just up to the crease."

Another very popular style was called "Twiggy Eyes"


At left, two steps in applying the eye make up seen in the finished face at right. From Revlon in 1968, the products for their Demi-Makeup included: Eyes Translucent Brow Lightener, Liquid Liner, Powered eyeshadow.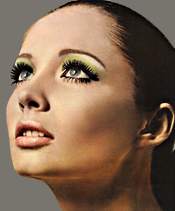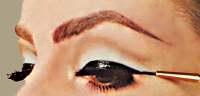 Eyeliner helped create the dark, dramatic eyes of the 1960s. Applied liberally in this example, you would be ready not only for a party, but a trip down the Nile!
Left, from 1967 Max Factor ad for shiny Eye-Liner Liquid.
At right, a dramatically dark evening look.