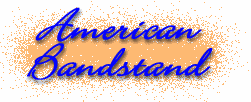 The Bandstand Fundraiser – 2009
This site is not endorsed by or associated with dick clark productions, inc. or its family of companies.
This gala fund raiser was the kick off event for the "Save the Bandstand Floor Campaign and was titled Dancing With the Bandstand Stars. It was held at The Enterprise Center at 4548 Market street in Philadelphia, PA. which is the original studio where American Bandstand was filmed. Attendees included Regulars as well as a host of Original Philly American Bandstand dancers. The event was a dance extravaganza and everyone thoroughly enjoyed seeing each other again. The goal of the evening was to help raise $25,000. towards the $50,000. floor renovation costs.

The group stopped dancing long enough to pose for this photo (7/15/2009)
* Some of the attendees in this group include,Front Row: Bunny Gibson, Nicky Blue, Jim Hudson, Marlyn Brown and Thom Cardwell; in second row: Bonnie Nadley, Len Natle, Jim Russo, Diane Iaquinto and Frank Levins; in back row: Eddie Kelly and David Frees
| | |
| --- | --- |
| Ed Kelly and Bunny Gibson at the Fundraiser 2009 | Ed Kelly and Bunny Gibson 1958 |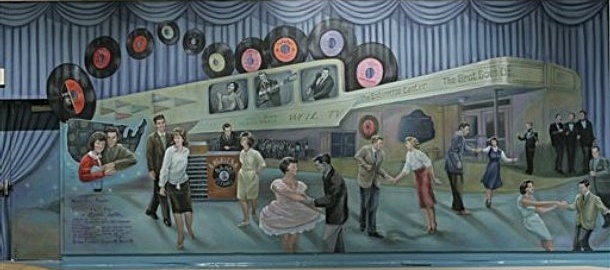 Wall mural by Diane Keller depicting American Bandstand at the Enterprise Center
(To learn more about the Enterprise Center go to the bottom of this page and click on the YouTube video)

Diane Iaquinto


Len Natale & Bonnie Nadley
doing the Stroll


Marilyn Brown
concentrating on her steps

Joe Terry sang with
Danny and the Juniors

Danny and the Juniors 1958
(Courtesy of George Manney and Bunny Gibson)

Profound thanks to Bonnie Nadley and David Frees for the many pictures and help in creating this page.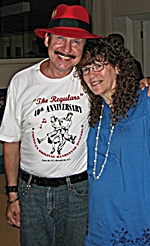 David and Bonnie
taking a short breather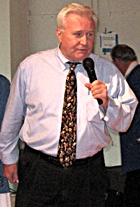 Bill Kelly
addressing the group
American Bandstand Main Page
a page about Davis Frees