1/23/1983 – 8/3/1987 NBC 60 minutes
Color – 98 episodes
Created by Stephen J. Cannell
Universal Television
A-Team Cast
George Peppard as Col. John "Hannibal" Smith
Dwight Schultz as Capt. H.M. "Howling Mad" Murdock
Dirk Benedict as Lt. Templeton "Faceman" Peck
Mr. T as Sgt. Bosco Albert "B.A." Baracus
Melinda Culea as Amy Allen (1983)
William Lucking as Col. Lynch (1983-1984)
Lance LeGault as Col. Roderick Decker (1983-1986)
Marla Heasley as Tawnia Baker (1984)
Robert Vaughn as Gen. Hunt Stockwell (1986-1987)
Eddie Velez as Frankie "Dishpan" Santana (1986-1987)
Judy Ledford as Carla (1986)

Dirk Benedict, George Peppard
Dwight Schultz, Mr. T

Dirk Benedict, George Peppard
Dwight Schultz, Mr. T
Buy A-Team on DVD
Complete 1st Season
Complete 2nd Season
Complete 3rd Season
Complete 4th Season
Complete 5th Season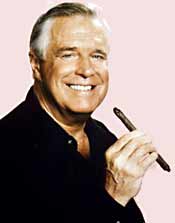 George Peppard as "Hannibal" Smith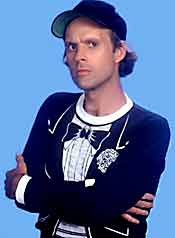 Dwight Schultz as Murdock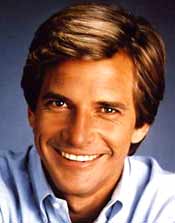 Dirk Benedict as Face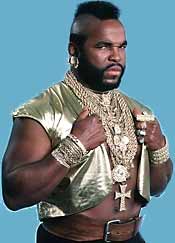 Mr. T as B.A.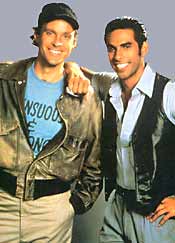 Dwight Schultz and
Eddie Velez as Frankie SantanaA-Team Theme
Mike Post and Pete Carpenter
A-Team Tidbits
"In 1972 a crack commando unit was sent to prison by a military court for a crime they didn't commit. These men promptly escaped from a maximum security stockade to the Los Angeles underground. Today, still wanted by the government, they survive as soldiers of fortune. If you have a problem, if no one else can help, and if you can find them, maybe you can hire the A-Team."
The A-Team was a guilty pleasure. Sure, you knew you could improve your brain and turn to PBS or Discovery, but this was just so much fun.
The introduction lays out the story. Our hunted heroes set about saving the innocent, protecting the underdog. Which would be pretty standard TV fare, except for the quirky personalities of this fearsome foursome.
Colonel John "Hannibal" Smith (George Peppard) was a master at disguise. The A-Team leader was always "on the jazz." He was an expert tactician, although sometimes the scheme had to be revised. He was fond of saying, "I love it when a plan comes together."
Captain H.M. "Howlin' Mad" Murdock (Dwight Schultz) was a nutjob. Literally, the guy lived in a mental institution, which often prompted teammate B.A. to call him a "crazy fool." What Murdock brought to the team was his ace flying ability.
Lt. Templeton "Faceman" Peck (Dirk Benedict) was drop dead gorgeous. His speciality was acquisitions. He could get anything and was an especially good conman. Unlike his teammates who liked to mix it up with the bad guys, Face didn't like fighting and didn't relish getting hit.Sergeant Bosco "B.A." Baracus was the A-Team's muscle man. He claimed "B.A." stood for "Bad Attitude." He was the A-Team's mechanic and could fix or make any kind of machinery. His one weakness was flying, which he refused to do, so his teammates had to knock him out, either bluntly or with drugs, to load him on a plane.
In the last season, there was a Court Martial and then an escape, all choreographed by General Stockwell (Robert Vaughn). At this time a new team member was added, Frankie Santana (Eddie Velez). During this season, they did the General's bidding.
Two women had perfuntory roles. Window dressing really. Amy Allen (Melinda Culea) was a newspaper reporter. Tawnia Baker (Marla Heasley) replaced her briefly and then left, making many fans happy.
Passings
George Peppard died in 1994 of pneumonia.