1952-1956 Syndicated
30 minutes
Black and White – 83 episodes
Produced by
Gene Autry's Flying A Productions
Annie Oakley Cast
Gail Davis as Annie
Jimmy Hawkins as brother, Tagg
Brad Johnson as Deputy Sheriff Lofty Craig
Fess Parker as Tom Conrad
Shelley Fabares as Trudy
Horses: Target – Annie's horse
Annie Oakley Tidbits
The story took place in Diablo and Oakley (Gail Davis) was a gun-toting, hard ridin' rancher. And she was a woman! For a female to have a lead in any series, let alone a Western was rare.
The show was aimed at children and it worked. Many women who now are called "Grandma" recall Annie Oakley as a model for what women can do.
Gail Davis was a crack shot and skilled rider and so did most of her own stunts.
Passings
Brad Johnson died in 1981 and Gail Davis in died 1997 of cancer.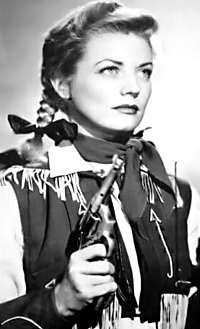 Gail Davis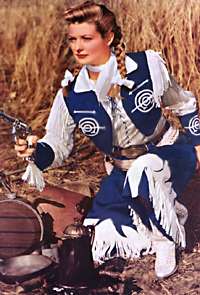 Gail Davis
From the Doug Abbott Collection


Brad Johnson, Gail Davis and Jimmy Hawkins
From the Neil KutzenCollection
External Links
TV Guide's Annie Oakley Page, with TV Listings, Photos, Videos, Exclusive News and More.