Avengers
3/28/1966 – 9/15/1969 ABC 60 Minutes
First aired in UK in March of 1961
161 episodes, 25 in color
New Avengers
11/15/1978 – 3/23/1979 CBS 60 Minutes
26 episodes – color
Avengers Cast
Patrick Macnee as John Wickham Gascone Berresford Steed
Diana Rigg as Emma Peel (1965-1968)
Patrick Newell as Mother (1968-1969)
Honor Blackman as Cathy Gale (1962-1964)
Linda Thorson asTara King (1968-1969)
Ingrid Hafner as Carol Wilson (1961-1962)
Ian Hendry as Dr. David Keel (1961)
Arthur Hewlett as One-Twelve (1961-63)
Douglas Muir .as One-Ten (1961-63)
Rhonda Parker as Rhonda (1968-1969)
Jon Rollason as Dr. Martin King (1962-63)
Julie Stevens as Venus Smith (1962-63)
Gareth Hunt as Michael Gambit (New Avengers)
Joanna Lumley as Purdey (New Avengers)
Avengers Theme
"The Avengers" by Johnny Dankworth
Avengers Tidbits
"Extraordinary crimes against the people and the state have to be avenged by agents extraordinary. Two such people are John Steed, top professional, and Emma Peel, talented amateur…otherwise known as the Avengers."
The Avengers ran for five years in the UK before arriving in the US in 1966. In the early shows, Steed (Patrick Nacnee) helped a man find his wife's killers. That scenario got abandoned and Steed became a government agent with a partner, Cathy Gale, played by Honor Blackman who left the show to become Pussy Galore in "Goldfinger." It would be 25 years before these early shows would be shown in the US.
The shows aired in the US were the golden years of the Avengers. America got Emma Peel (Diana Rigg). The sexy, liberated, bridge playing widow (we thought) of test pilot Peter Peel was a gifted amateur who assisted Steed. And no, it was never clear what their relationship was.
"Mrs, Peel, we're needed." Dressed in boots and leather, Emma Peel was a sharp contrast to Steed, who epitomized the upper crust English. He wore a three-piece suit, bowler hat and carried a bumbershoot. He lived at 3 Staple Mews and liked his coffee stirred counter-clockwise.
After Diana Rigg left the show, farmgirl Tara King (Linda Thorson) became Steed's sidekick. Although carrying a brick in her purse was a nice quirk, she was no Emma Peel.
In 1978 they tried to bring the show back as the New Avengers. Patrick Macnee again played Steed but it was short-lived.
In 1990 A&E brought back the Rigg episodes and finally America got to see the Blackman years.
In 1998 the Avengers was made into a movie starring Uma Thurman and Ralph Fiennes. 'Nuff said.
Passings
Patrick Newell died in 1988
Patrick Macnee died in 2015 at 93
Diana Rigg passed away in 2020 she was 82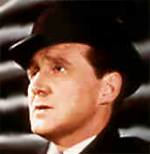 Patrick Macnee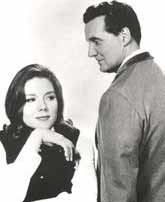 Diana Rigg and Patrick Macnee
The Forget-Me-Knot episode
3/20/68 in the USEmma finds out that her husband Peter is alive and leaves (the show) to join him. Steed and Emma kiss farewell. And as she passes Tara King, Emma reminds her that Steed likes his coffee stirred "anti-clockwise."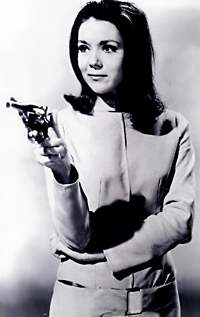 Diana Rigg
Avengers Trivia
John Steed's autos
Yellow 1926 Rolls Royce, Silver Ghost.

Dark green 4.5 litre Bentley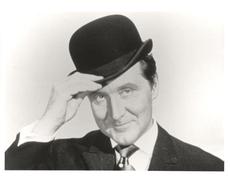 Patrick Macnee