Buy Baretta on DVD
Complete 1st Season (1975)
The Best Of Baretta
---
Baretta
January 17, 1975 – May 18, 1978
(82) thirty minute episodes (4 seasons)
in color on ABC
Created by: Stephen J. Cannell
Produced by: Roy Huggins-Public Arts Productions and Universal TV
CAST
Robert Blake  –
Dana Elcar  –
Tom Ewell  –
Michael D. Roberts  –
Edward Grover  –
John Ward  –

Det. Tony Baretta
Inspector Shiller
Billy Truman
Rooster
Lt. Hal Brubaker
Foley
Theme Song
"Keep Your Eye on the Sparrow" Music by: Dave Grusin
Lyrics by: Morgan Ames (the lyrics were added in the second season)
Performed by: Sammy Davis Jr.
Don't go to bed, with no price on your head
No, no, don't do it.
Don't do the crime, if you can't do the time,
Yeah, don't do it.
And keep your eye on the sparrow.
When the going gets narrow.
Don't do it, don't do it.
Where can I go where the cold winds don't blow,
Now.
Well, well, well.
STORYLINE
Tony Baretta (Robert Blake) was a streetwise undercover NYPD Detective who liked to use unusual disguises to catch the bad guys. He also didn't believe that the rule book applied to him as long as he made the arrest. His superior Inspector Shiller (Dana Elcar) however disagreed. He was constantly being reprimanded for his offbeat tactics.(Dana Elcar was replaced after the first season by Lieutenant Hal Brubaker (Edward Grover) due to personality conflicts with Blake.)
Baretta had some help on cases by Rooster (Michael D. Roberts) a street pimp and frequent informer and from a retired NYPD officer Billy Truman (Tom Ewell) who worked with Baretta's father. Truman managed the run down hotel where Baretta lived with his pet cockatoo, Fred.
He had quite a few colorful sayings one of his favorites was "Don't do the crime if you can't do the time". Others included "And dat's the name of dat tune" and "You can take dat to da bank".
Video Clip of Baretta
Passings
Tom Ewell died in 1994 of a long illness, he was 85
Dana Elcar died in 2005 of complications from pneumonia, he was 77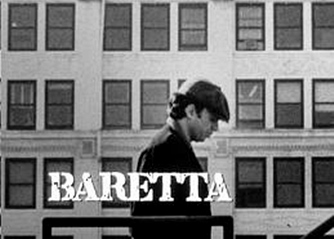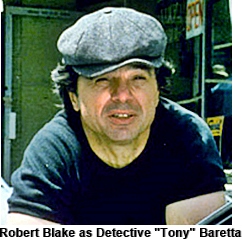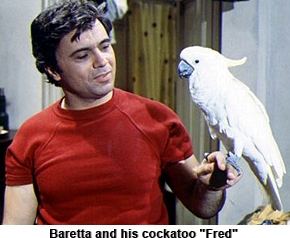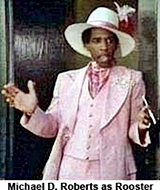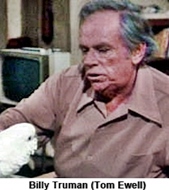 TRIVIA:
Baretta was not an original show. It was actually a continuation of the police show Toma, starring Tony Musante. Musante quit after the first year and the studio wanted Robert Blake to replace him. Blake however didn't feel comfortable stepping into Musante rather popular shoes so he convinced the studio to slightly retool the show calling it Baretta instead.