10/8/1958 – 9/21/1961
NBC 30 minutes
Black and White – 108 episodes
Bat Masterson Cast
Gene Barry as William Bartley "Bat" Masterson
Bill Baldwin – Announcer
Horses: Stardust – Bat's horse
Bat Masterson Theme Song
"Bat Masterson" by Havens Wray
Back when the west was very young,
There lived a man named Masterson.
He wore a cane and derby hat,
They called him Bat, Bat Masterson.
The trail that he traveled is still there,
No one has come yet to replace his name.
And those with too handy a trigger, forgot to figger
On his fighting cane.
A man of steel the stories say,
But women's eyes all glanced his way.
A gambler's game he always won,
They called him Bat, Bat Masterson.
Now in the legend of the west,
One name stands out of all the rest.
The man who had the fastest gun,
His name was Bat, Bat Masterson.
Bat Masterson Tidbits
Bat Masterson (Gene Barry) was a smooth talking, dapper enforcer of the law in the 1880s. He carried a gold-tipped cane which hid a sword. But natch, he also carried a gun, one that was custom built for him by the people of Dodge City during his service as sheriff.
However, the TV Bat Masterson would rather talk his way out of a fight than resort to violence.
In real life, William Bartley Masterson was a deputy of Wyatt Earp's.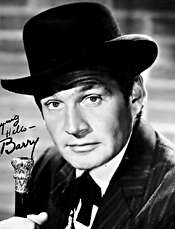 Gene Barry
From the Neil Kutzen Collection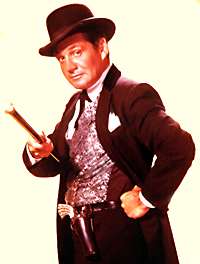 Gene Barry
From the Doug Abbott Collection
NOW ON DVD!
The Complete First Season (1958)
The Complete Second Season (1959)
The Complete Third Season (1960)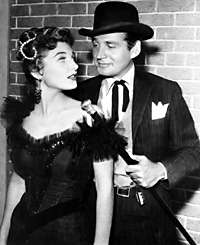 Gene Barry
From the Doug Abbott Collection