Buy Bob Newhart on DVD
The Bob Newhart Show
9/16/1972 — 3/19/1978 on CBS, 142 episodes in color
Created by David Davis and Lorenzo Music
Produced in Chicago by MTM Enterprises
CAST
Bob Newhart ….. Dr. Robert 'Bob' Hartley
Suzanne Pleshette ….. Emily Hartley
Peter Bonerz ….. Dr. Jerry Robinson
Bill Daily ….. Howard Borden
Marcia Wallace ….. Carol Kester
Jack Riley ….. Elliot Carlin
Opening Theme
"Home to My Emily", composed by series co-creator Lorenzo Music with his wife Henrietta
The theme was an instrumental piece that started with a ringing telephone.
STORYLINE
Bob is a successful Chicago psychologist who shares secretary Carol with Dentist Jerry. Part of the show revolves around his (usually comic) dealings with his patients.
The rest involves his school teacher wife Emily and others in their apartment building, which includes Howard Borden his madcap airline pilot neighbor.
There is always a situation which calls for Bob's quiet voice of reason and very dry wit.
Bob's patients also played a prominent roll in the series, here are a few of the fan favorites:
Jack Riley as Mr. Elliot F. Carlin (76 episodes)
Renée Lippin as Michelle Nardo (17)
Florida Friebus as Mrs. Lillian Bakerman (the knitting lady) (17)
Amzie Strickland as Mrs. Bakermen (2)
John Fiedler as Mr. Emil Peterson (15)
Oliver Clark as Mr. Ed Herd (8)
Video Clip of Opening
Passings
Suzanne Pleshette died in 2008 of lung cancer she was only 70
Marcia Wallace died of breast cancer in 2013 she was also 70
Jack Riley passed in 2016 of pneumonia he was 80


Season One (1972)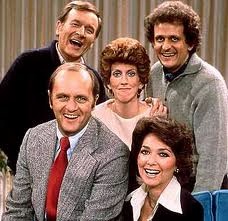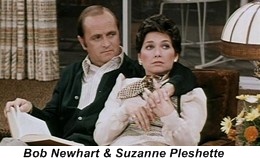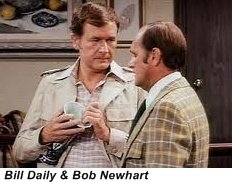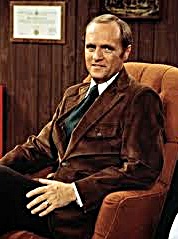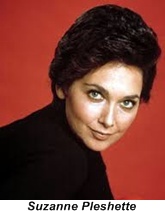 TRIVIA:
Bob & Emily lived at:
Thorndale Beach North condominiums,
5901 N. Sheridan Road on the shore of Lake Michigan in Chicago's Edgewater community,
it was used for exterior shots of the Hartley's apartment building. They lived in unit 523.
The building used for exterior shots of Bob's office is at 430 N. Michigan Avenue
TRIVIA:
Bob Newhart had a second series (1988 – 1990) called simply "Newhart" in which several characters from the previous show had guest spots.
In the final episode Suzanne Pleshette reprised her role as Emily Hartley and she and Bob wake up back in time and their Chicago apartment with Bob talking about the really strange dream he had where he was an inn keeper in Vermont.
In another episode Bill Daily appears again playing Howard Borden who also talks about a dream he had where he was astronaut in Florida for five years referring to his role on "I Dream of Jeannie"