1/14/1965 – 8/4/1966
NBC 30 minutes
Black and White – 48 episodes
(Jan. 1965 – Sept. 1966 Sunday 8:30-9:00)
Branded Cast
Chuck Connors as Jason McCord
William Bryant as President Ulysses S. Grant
Branded Theme Song
"Branded" music by Dominic Frontiere, lyrics by Alan Alch
Branded Tidbits
"All but one man died
There at Bitter Creek
And they say he ran away.
Branded, marked with a coward's shame,
What do you do when you're branded,
Will you fight for your name?"
Captain Jason McCord (Chuck Connors) is a West Point graduate who is the sole survivor of a massacre at Bitter Creek. He is judged to have been a coward in the battle and is dismissed in disgrace.
In the opening sequence, we see McCord's commanding officer rip the rank designations and decorations from his uniform. He breaks McCord's sabre in half, tossing the bottom half out of the fort gate.
Now McCord must wander the West in the 1880s hoping to establish his innocence but never telling the story of what really happened at Bitter Creek. Some he encounters believe him to be a coward, while others find his character beyond such transgressions.
Along the way, he is introduced to President Grant (William Bryant), who engages McCord to asist in undercover operations for the government.
Passings
Chuck Connors died in 1992 of lung cancer and William Bryant in 2001 of cancer.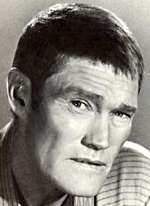 Chuck Connors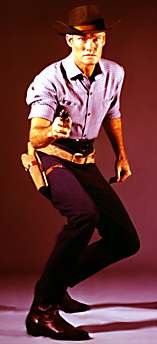 Chuck Connors
From the Doug Abbott Collection
Buy Branded on DVD!
Branded: The Complete First Season
Branded: The Complete Second Season
Branded: The Complete Series
For More Chuck Connors:
See Rifleman
Cowboy in Africa
External Links
TV Guide's Branded Page, with TV Listings, Photos, Videos, Exclusive News and More.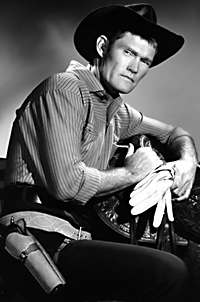 Chuck Connors
From the Doug Abbott Collection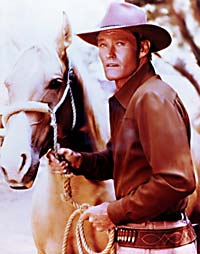 Chuck Connors
From the Doug Abbott Collection