9/28/1955 – 6/6/1956 CBS 30 minutes
Black and White
(Sept. 1955 – June 1956 Wednesday 7:30-8:00)
Brave Eagle Cast
Keith Larsen as Brave Eagle
Keena Nomkeena as Keena
Kim Winona as Morning Star
Bert Wheeler as Smokey Joe
Brave Eagle Tidbits
At last! A story of cowboys and Indians told from the Indian point of view. Brave Egale was the chief of a peaceful Cheyenne tribe. Keena was his foster son and Morning Star his love interest. Smokey Joe was a half-breed who was the wise one.
Passings
Bert Wheeler died in 1968 of emphysema. Kim Winona died in June of 1978 from a self-inflicted gunshot wound to the head.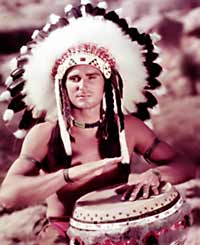 Keith Larson
From the Doug Abbott Collection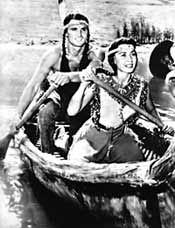 Keith Larsen and Kim Winona
From the Doug Abbott Collection
External Links
TV Guide's Brave Eagle Page, with TV Listings, Photos, Videos, Exclusive News and More.