September 20, 1963 – May 1, 1965
81 one hour episodes (3 seasons)
in B&W on ABC
Created by: Frank D. Gilroy, Ivan Goff, Ernest Kinoy
Produced by: Four Star Television
CAST
Gene Barry   —   Captain Amos Burke
Gary Conway   —   Detective Tim Tilson
Michael Fox   —   George McLeod
Leon Lontoc   —   Henry
Regis Toomey   —   Detective Lester Hart
Eileen O'Neill   —   Sergeant Ames
Carl Benton Reid   —   The Man
STORYLINE
If you remember Bat Masterson the debonair lawman who outsmarted the bad guys then you basically have the character and overview of this slick show. Amos Burke (Gene Barry) plays a millionaire police captain who uses his intuition to unravel a new very complicated murder cases each week.
He is chauffeured to the crime scenes in his Rolls-Royce Silver Cloud II by his personal driver Henry (Leon Lontoc). He also manages to attract the attentions from a beautiful woman or two along the way.
Each episode started with the words "Who Killed…?" with the name or description of the victim (who inevitably died in the show's opening minutes) filling the blanks. The show was loaded with big name guest stars either playing the victim or the killer (Ronald Reagan played a murderer in one episode).
Oddly to cater to a wildly popular spy show trend at the time the show was renamed Amos Burke, Secret Agent and given a whole new plot line. Burke had quit the police department to join a government spy agency (they even had his Rolls Royce bullet proofed!. Unfortunately the audience didn't think that he made a very good spy and the show was canceled half way through the third season.
The show did have a brief revival in its original form on CBS from 1994–1995 with Gene Barry again portraying the millionaire crime solving police detective.
Video Clip of Burke's Law

Passings
Gene Barry died in 2009 of natural causes, he was 90
Michael Fox passed away in 1996, he was 75
Leon Lontoc died in 1974, he was 65
Regis Toomey died in 1991 of natural causes, he was 93
Carl Benton Reid died in 1973, he was 79 years old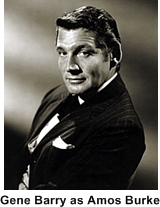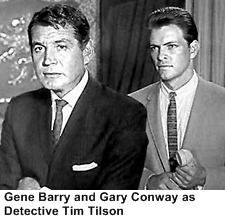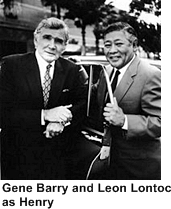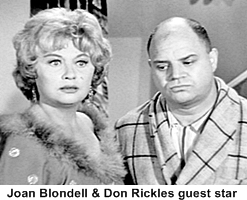 ---
Buy Burke's Law on DVD
Season One, Vol. 1 (1963)
Season One, Vol. 2 (1964)
TRIVIA:
The Burke's Law episode titled, "Who Killed the Jackpot?" featured a tough yet very feminine private detective (Anne Francis). That character was so popular that in less than five months she received her own series titled, "Honey West".
Honey was killed after just one season by Gomer Pyle (in the ratings that is!) and was canceled.