BUY on DVD
The George Burns and Gracie Allen Collection
Volume 1
Volume 2
Volume 3
George Burns and Gracie Allen Show
aka Burns and Allen
10/12/1950 – 11/22/1958 CBS 30 minutes
Black and White
George Burns Show
10/21/1958 – 4/14/1959 CBS 30 minutes
George Burns Comedy Week
9/18/1985 – 12/25/1985 CBS 30 minutes
Burns and Allen Cast
George Burns as Himself
Gracie Allen as Herself
Ronnie Burns as Himself (1955-1958)
Bea Benaderet as Blanche Morton
Hal March as Harry Morton (1950-1951)
John Brown as Harry Morton (1951)
Fred Clark as Harry Morton (1951-1953)
Larry Keating as Harry Morton (1953-1958)
Rolfe Sedan as Mr. Beasley, Mailman
Howard McNear as Cuspert Jansen (1955-1958)
Burns and Allen Theme Song
"Love Nest" by Louis A. Hirsch and Otto Harbach
Burns and Allen Tidbits
Unquestionably, one of the most talented pairs in show business history. Deadpan George Burns and scatterbrained Gracie Allen. Of note, Gracie never saw herself as a comediene, but rather as an actress. Well, you could have fooled us. Gracie would get into all these situations, and then George would just turn to the camera and calmly explain.
There were a bunch of actors playing Harry Morton, husband of Gracie's best friend and neighbor, Blanche. When Fred Clark left the role, George Burns just told the audience it was because he wanted too much money!
Gracie Allen retired in 1958 and George tried it on his own but it just wasn't the same. Burns got coaxed back to TV briefly in 1985 to host The George Burns Comedy Hour. He was nearly 90 at the time!
What is best remembered is the closing.
Burns: "Say Good-night Gracie!"
Allen: "Good-night Gracie"
Passings
Gracie Allen died in 1964 of a heart attack. George Burns died in 1996. He was 100 years old.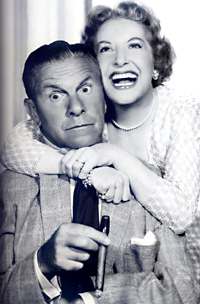 George Burns and Gracie Allen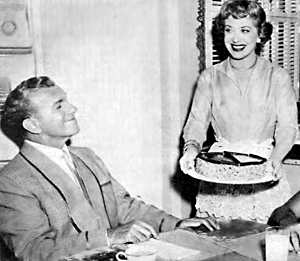 George Burns and Gracie Allen