September 19, 1971 – April 9, 1972
(24) one hour episodes (1 season)
in color on CBS
Created by: Rick Husky and Anthony Wilson
Produced by: 20th Century Fox Television and David Gerber Productions
CAST
Glenn Ford
Edgar Buchanan
Taylor Lacher
Peter Ford
Victor Campos
Betty Ann Carr
Sandra Ego

Sam Cade
J.J. Jackson
Arlo Pritchard
Pete
Rudy Davillo
Betty Ann Sundown
Joanie Little Bird
Theme Music
Composed by: Henry Mancini
STORYLINE
Package together a major motion picture star (Glen Ford), a situation that combines the best of a modern cop show with the trappings of a old time western an excellent support cast and what do you have… A big hit right? Well actually it was canceled after only one season, Why you ask…. I guess westerns really had run their course, even modern ones.
Sam Cade (Glenn Ford) is a Korean War Navy fighter pilot, who left and joined the F.B.I. then left that to return to a sparsely populated desert area known as Madrid County, where he was raised. He became sheriff but was still just called Sam. His right hand man was Deputy J.J. Jackson (Edgar Buchanan). Also helping them out are Deputy Pete (Peter Ford, Glenn's real life son) and Arlo Pritchard (Taylor Lacher). Being in the desert southwest the crimes they investigated were mostly cattle or mining related. There was also a large native American population which occasional led to racial crimes. This was an action show, it certainly had enough fist fights and gun battles to keep any action junkie happy.
This series did something else that was unheard of for the day. While Bonanza, and most other shows, were still using white actors wearing red makeup to portray "the injuns" Cade's County used Native Americans not only as extras but also in some of the title roles.
Video Clip of Cade's County
Passings
Glen Ford died in 2006 of complications from previous strokes, he was 90
Edgar Buchanan died of complications from a stroke in 1979, he was 76
Taylor Lacher died in 2005, he was 63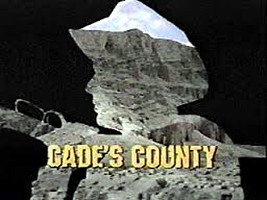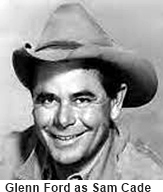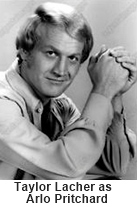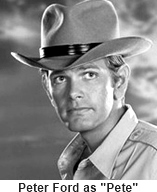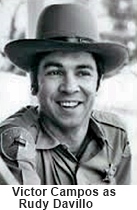 TRIVIA:
Glenn Ford set his acting aside and joined the United States Marine Corps in 1942 at the start of the war. Working primarily in the Public Relations Office he attained the rank of Sgt. and discharged in 1944.
Later in 1958 he joined the U.S. Naval Reserve as a lieutenant commander again working in public relations. He was promoted to commander in 1963 and captain in 1968. He retired from the Naval Reserve in the 1970s at the rank of captain.