1958 Syndicated
30 minutes
Black and White
32 episodes
Jan. 1965 – Sept. 1966
Sunday 8:30-9:00
Casey Jones Cast
Alan Hale Jr. as Casey Jones
Eddy Waller as Red Rock
Bobby Clark as Casey Jr
Mary Laurence as Alice Jones
Dub Taylor as Wallie Sims
Casey Jones Theme Song
"Casey Jones" folk song
Burl Ives sang the show theme

Casey Jones Tidbits
Loosley based on the life of John Luther "Casey" Jones, a real-life train engineer. The Midwest and Central Railroad line during the late 1800s ran from from Chicago to New Orleans.
This was a warm-hearted show geared toward kids. Starring the affable Alan Hale, before he was marooned on that island with Gilligan. The story centered around the Cannonball Express steam engine.
Passings
Alan Hale died in 1990 of cancer of the thymus. Eddy Waller in 1977 of a stroke. Dub Taylor died in 1994 of congestive heart failure.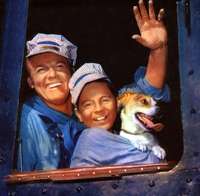 Alan Hale Jr. and Bobby Clark
From the Doug Abbott Collection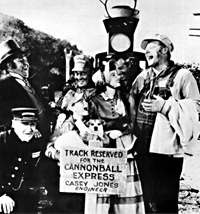 From the Doug Abbott Collection
For More Alan Hale Jr:
See Gilligan's Island
External Links
TV Guide's Casey Jones Page, with TV Listings, Photos, Videos, Exclusive News and More.