9/20/1955 – 9/13/1963 ABC
Black and White – 60 minutes
107 episodes
Sept. 1955-Sept. 1959 ABC
Tuesday 7:30-8:30
Sept. 1959-Dec. 1962 ABC
Monday 7:30-8:30
April 1963-Sept..1963
ABC Friday 7:30-8:30
Produced as Warner Brothers Presents
Cheyenne Cast
Clint Walker as Cheyenne Bodie
Ty Hardin as Bronco Layne
L.Q. Jones as Smitty (1955-1956)
Horse: Brandy
Cheyenne Theme Song
"Theme from Cheyenne" by William Lava, with lyrics by Stanley D. Jones
Cheyenne, Cheyenne where will you be campin' tonight?
Loney man, Cheyenne, will your heart stay free and light?
Dream Cheyenne of a girl you may never love
Move along, Cheyenne like the restless clouds up above.
The wind that blows, that comes and goes, has been your only home.
But will the wild wind one day cease and you'll no longer roam?
Move along, Cheyenne the next pasture's always so green.
Driftin' on, Cheyenne don't forget the things you have seen,
And when you settle down where will it be, Cheyenne! Cheyenne!
Cheyenne Tidbits
Cheyenne wandered the West trying to avoid trouble but with little success. Although it is hard to understand who would mess with the 6'6" Clint Walker. Producers quickly realized Walker's hunk value and his shirt came off in an astonishing number of episodes.
In the first season he had a sidekick, a mapmaker named Smitty (L.Q. Jones) but the character was dropped in the second season.
The filmography is convoluted as Cheyenne was part of Warner Brothers Presents, a rotation of series. (See below). Further complicating the lineup was Walker's conflict with the studio. Reportedly, Warner's wanted a huge piece of Walker's PA (public appearance) money. So in 1958 Walker left the show while Ty Hardin carried on. By 1959 they had resolved their differences, and Walker returned.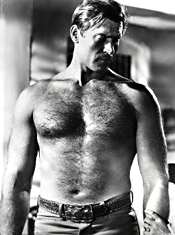 Clint Walker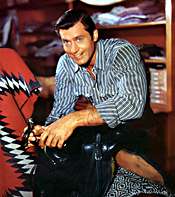 Clint Walker
From the Doug Abbott Collection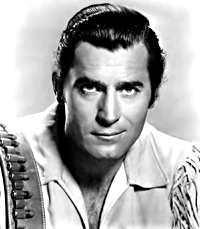 Clint Walker
From the Doug Abbott Collection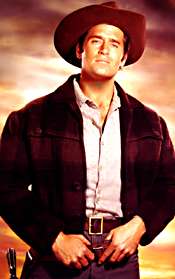 Clint Walker
From the Doug Abbott Collection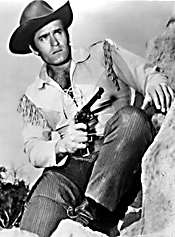 Clint Walker
Buy Cheyenne on DVD!
Complete 1st Season
Complete 2nd Season
Complete 3rd Season
Complete 4th Season
Complete 5th Season
Complete 6th Season
Complete 7th Season
External Links
TV Guide's Cheyenne Page, with TV Listings, Photos, Videos, Exclusive News and More.