The Cosby Show
September 20, 1984 – April 30, 1992 on CBS, it ran 168 episodes in color
Created by Ed. Weinberger, Michael Leeson and Bill Cosby
Produced by Carsey-Werner Productions and Viacom Productions
CAST
Bill Cosby … Dr. Heathcliff 'Cliff' Huxtable
Phylicia Rashad … Claire Hanks Huxtable
Sabrina LeBeauf … Sondra Huxtable Tibideaux
Malcolm-Jamal Warner … Theodore 'Theo' Huxtable
Keshia Knight Pulliam … Rudy Huxtable
Tempestt Bledsoe … Vanessa Huxtable
Lisa Bonet … Denise Huxtable
Earle Hyman … Russell Huxtable
OPENING THEME
"Kiss Me" Composed by: Stu Gardner and Bill Cosby
Performed by (different artists for various seasons): Bobby McFerrin, The Oregon Symphony, Craig Handy, Lester Bowie and others
STORYLINE
Focusing on the everyday life and experiences of an upper-middle-class African American family, The Huxtable's.
Doctor Heathcliff (Cliff) Huxtable and Clair Huxtable, a happily married couple he was an obstetrician while his wife was an attorney.
Their five children, four daughters and one son; Sondra, Denise, Theodore (Theo), Vanessa and the youngest Rudy are perfectly normal kids who experienced normal childhood trials and tribulations.
This backdrop lends itself perfectly to Cosby's trademark family situational humor and becomes the perfect parenting advice that the show portrays. His comedic "talks" to the children were often adlibbed and the cast had to learn to keep a straight face to avoid numerous retakes because of spontaneous laughter.
As the show progressed the older daughters went off to college and some boy friends and girl friends would peiodicaly be added to the cast.
The show although a sit-com did try and deal with an occasional socially relevant topic albeit with a conservative approach.
---
Buy The Cosby Show on DVD
Complete 1st Season (1984)
Complete 2nd Season (1985)
Complete 3rd Season (1986)
Complete 4th Season (1987)
Complete 5th Season (1988)
Complete 6th Season (1989)
Complete 7th Season (1990)
Complete 8th Season (1991)
Complete Series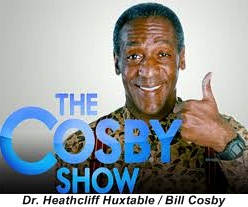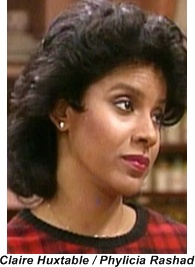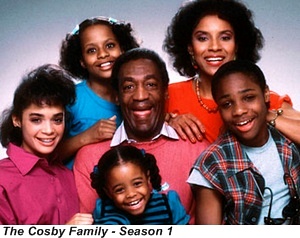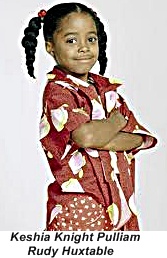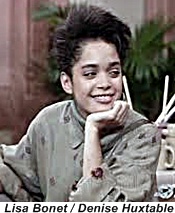 TRIVIA:
A Few Bill Cosby TV Misses
Bill Cosby Show – sit-com 52 episodes (2) seasons 1969-71
The New Bill Cosby Show – variety show (1) season 1972
Cos – sketch comedy/variety show (1/2) season 1976
Phylicia Rashad started the show as Phylicia Ayers-Allen then married in 1985 thus changing her name
Bill Cosby originally wanted to portray a blue collar limousine driver with a stay at home wife but was out voted by his two creative partners
Bill cosby made fashion designer Koos Van Den Akker famous by wearing a lot of his sweaters on the show and giving others as gifts to his celebrity friends
TRIVIA:
The Jazz Connection
Bill Cosby is an amatuer jazz drummer and bass guitar player
Creatively the producers thought that the use of jazz would give the Huxtables a sense of refinement
Cosby's TV father, Russell Huxtable, potrayed a prominent jazz trombonist
In several episodes Cosby plays old jazz albums for he and Phylicia Rashad to dance to, these albums were from his pesonal collection of jazz greats