The Legend of Custer
September 6, 1967 – December 27, 1967
17 one hour episodes (1 season)
in color on ABC
Created by: Samuel A. Peeples and David Weisbart
Produced by: 20th Century Fox
CAST
Wayne Maunder   —   Lt. Col. George Armstrong Custer
Robert F. Simon   —   Gen. Alfred Terry
Peter Palmer   —   Sgt. James Bustard
Slim Pickens   —   California Joe Milner
Michael Dante   —   Crazy Horse
STORYLINE
The plot is just what you remember, Custer (Wayne Maunder) is a Civil war hero, sent out west to fight Indians. Partially as a punishment he is given a ragtag group of misfits and criminals as his troops and a commanding General (Robert F. Simon)who can't stand his brash ways.
From time to time he makes deals with Crazy Horse (Michael Dante) but when the day is done they remain mortal enemies.
I'm not sure what would have happened when the time line of the show caught up to Little Big Horn in history but we never got to find out. The show was canceled due to American Indian protests about the portrayal of Indians as mindless savages. This was a landmark move for the studio and helped to set the tone the for more realistic depiction of Indians in the future.
Video Clip of Custer
Passings
Robert F. Simon died of a heart attack in 1992, he was 83 years old
Slim Pickens passed after surgery for a brain tumor in 1983, he was 64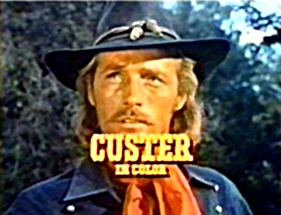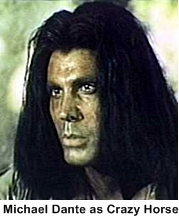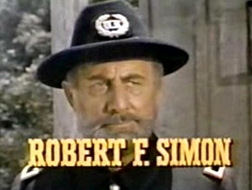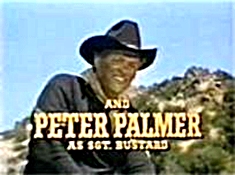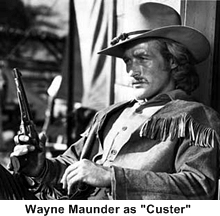 Buy Custer on DVD