BUY ON DVD
Make Room For Daddy – The Complete Fifth Season (1957)
Make Room for Daddy: Season 6 (1958)
The Best of Make Room for Daddy Collection
Make Room for Daddy, Danny Thomas Show
9/29/1953 – 7/18/1957 ABC 30 minutes 10/7/1957 – 9/14/1964 CBS 30 minutes
Black and White/Color – Total152 episodes (both titles)
Cast
Danny Thomas as Danny Williams
Jean Hagen as Margaret Williams (1953-56)
Marjorie Lord as Mrs. Kathy Williams (1957-1964)
Rusty Hamer as Rusty Williams
Sherry Jackson as Terry Williams (1953-1958)
Penny Parker as Terry Williams (1959-1960)
Amanda Randolph as Louise (1953-1964)
Angela Cartwright as Linda Williams (1957-1964)
Lelani Sorenson as Linda Williams (1956-57)
Hans Conried as Uncle Tonoose (1958-1964)
Sheldon Leonard as Phil Arnold (1957-64)
Sid Melton as Uncle Charley Halper (1959-1964)
Pat Carroll as Bunny Halper (1961-1964)
Bill Dana as Jose Jiminez (1961-1962)
Horace McMahon as Phil Arnold (1953-54)
Annette Funicello as Gina Minelli (1959)
Pat Harrington Jr. as Pat Hannigan (1959-1960)
Ben Lessy as Benny (1953-1957)
Jesse White as Jesse Leeds (1954-57)
Mary Wickes as Liz O'Neal
Theme Song
Danny Boy (Midi and Lyrics)
Danny Thomas Show Tidbits
First, they are the same show, just a name changed involved.
The story was based on Danny Thomas' real life as a working, travelling comedy actor.
In 1956 Jean Hagen quit the show and so Thomas killed off the character of his wife. For the next season he was a bachelor, courting various ladies. Then he falls for Kathy, a widowed Irish nurse with a daughter Linda.
Memorable performaces include Hans Conried as Uncle Tonoose and Bill Dana as Jose Jimenez.
Passings
Jeam Hagen died in 1977 of throat cancer, Hans Conreid in 1982, Rusty Hamer commited suicide in 1990, and Danny Thomas died in 1991 of a heart attack.

Angela Cartwright, Rusty Hamer, Majorie Lord, Danny Thomas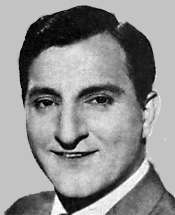 Danny Thomas
Make Room for Daddy Trivia
Marjorie Lord is actress Anne Archer's mother.

The title comes from Danny Thomas' real life. When he travelled, his daughters Marlo and Teresa would move into the master bedroom and sleep with Mom. But upon Thomas' return, they had to move out and "make room for Daddy."
External Links
TV Guide's Danny Thomas Page, with TV Listings, Photos, Videos, Exclusive News and More.
Make Room For Daddy Review
If you are going to start watching the Danny Thomas Show again, this is the season to begin with and the DVD set to own.
Marjorie Lord appears as new wife Kathy. Angela Cartwright takes over as Linda. These are the characters and situations we best recall.
As one of the few sitcoms ever to exceed a decade on the air, Danny Thomas was unique in many ways. While other TV Dads always knew "best" Danny made mistakes, Danny emoted, Danny made a scene. I always found this reassuring. Perfect makes me nervous and the Thomas character, voted one of the Top Five TV dads of all time by TV Guide, seemed real to me.
Make Room for Daddy DVD – Fifth Season
This DVD is a treasure. A true collector's edition. Generously provided with the set is the 4th season episode in which Danny and Kathy get married.
But the real gem is the "Danny Meets Andy Griffith" episode from the 7th season. This is the true pilot for the Andy Griffith Show which ebgan airing the next year.
Special Features:
1) The classic bonus episode, "Danny Meets Andy Griffith"
2) Rare performance footage of Danny Thomas on a Dean Martin and Jerry Lewis telethon.
Produced by Questar
Now in its 20th year, Questar, Inc. is one of the most distinguished independent producers and distributors of programming for television, the home, libraries, education, and the Internet. Questar distributes feature films in partnership with PorchLight Entertainment, and acclaimed non-fiction programming in association with such esteemed producers as National Geographic, Reader's Digest, and the award-winning public television series NATURE.