BUY Dark Shadows on DVD
Dark Shadows
6/27/1966 – 4/2/1971
ABC 30 minutes
Black & White/Color
1245 episodes
1/13/1991 – 2/22/1991 NBC 30 minutes
Dark Shadows Cast
Jonathan Frid as Barnabas Collins (1967-1971)
Joan Bennett as Elizabeth Collins Stoddard (1966-1970)
Alexandra Moltke Isles as Victoria Winters Clark (Bradford) (1966-1968)
Grayson Hall as Dr Julia Hoffman (1967-1971)
Louis Edmonds as Roger Collins
David Selby as Quentin Collins (1968-1971)
David Henesy as David Collins
Lara Parker as Angelique Bouchard Collins DuVal Rumson (1967-1971)
Jerry Lacy as Reverend Trask
Kathryn Leigh Scott as Maggie Evans
Dark Shadows Theme Song
"Dark Shadows Theme" by Robert Cobert
Dark Shadows Tidbits
Dark Shadows was a wonderfully quirky soap opera about vampires, warlocks, werewolves and other unearthly beings. The highly original show started off to slow ratings but when they added Barnabas Collins (Johanthan Frid), a 200 year old vampire, things began to click. Literally.
The supernatural cast of characters centered around Barnabas, made into a vampire by Angelique (Lara Parker), pining for his lost love Josette, and loved by his normal doctor, Dr.Julia Hoffman (Grayson Hall). Oh, about Josette – well, see Barnabas met Maggie Evans (Kathryn Leigh Scott) who looked liked Josette, so he kidnapped and hypnotized her and…you get the idea.
As the series progressed, we were treated to scenes of our characters from their early lives. The show would then bounce between the 1800s and modern times with cast members playing multiple roles.
Set in Colinsport, Maine but actually filmed in Newport, Rhode Island, the family home was named Collinwood.
They attempted to revive the show in 1991 but it was very short-lived.
Passings
Grayson Hall died in 1985 of cancer, Joan Bennett in 1990 of a heart attack, Louis Edmonds in 1991 of respiratory failure and Anthony George in 2005 of pulmonary disease, he was 84.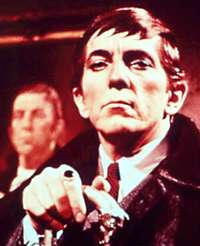 Jonathan Frid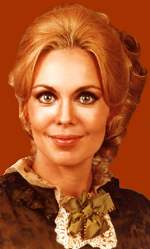 Lara Parker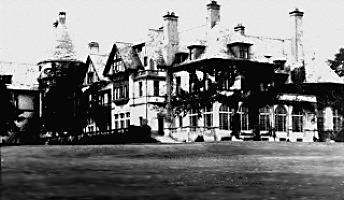 Collinwood
---
External Links
TV Guide's Dark Shadows Page,
with TV Listings, Photos, Videos,
Exclusive News and More.