Buy on DVD
(1967) Season 1
(1968) Season 2
(1969) Season 3
(1970) Season 4
(1950's) The Big Dragnet Collection
Dragnet
1/3/52 – 9/6/1959
NBC 30 minutes
Black and White
300 episodes
1/12/67 – 9/16/1970
NBC 30 minutes
Color
100 episodes
Syndication Title: Badge 714
Dragnet Cast – It's my job, I'm a cop
Jack Webb as Sergeant/Lieutenant Joe Friday
Ben Alexander as Officer/Sergeant Frank Smith
Harry Morgan as Officer Bill Gannon (1967-1970)
Herbert Ellis as Officer Frank Smith (1952)
George Fenneman as Announcer (c.1952-1959)
Barney Phillips as Sergeant Ed Jacobs (1952)
Barton Yarborough as Sergeant Ben Romero (1951)
Merry Anders as Policewoman Dorothy Miller (1967)
Dragnet Theme Song – Dum De Dum Dum
"Dragnet" by Walter Schumann (Miklos Rozsa's name was added later after a shaky lawsuit)
Dragnet Tidbits – Just the Facts Ma'am
Closing: "The story you have just seen is true. Only the names have been changed to protect the innocent."
Dragnet was pure Jack Webb. He owned a piece, he directed most episodes and he starred as Sergeant Joe Friday (later promoted to Lieutenant.) He insisted on realism as he would with later shows like Adam 12 and Emergency.
There was lots of cop jargon and supposedly, each show was based on an actual case. At the end of the show, you got to know what happened to the bad guys.
Joe Friday was a serious Los Angeles cop who as a consequence was, well, dull. Once or twice he had a love interest but they never lasted past THAT episode. Joe Friday was all business – cop business. He spoke in a monotone, "It was 9:35 PM and we were working the night shift out of robbery…)
He ran through a few partners until he settled on Ofiicer Frank Smith (Ben Alexander) who at least provided a laugh here and there. He stuck for the full first run.
In the show's second incarnation his partner was Bill Gannon (Harry Morgan) who would later become Col. Sherman Potter of M.A.S.H.
In 1987 they made a movie of Dragnet, starring Dan Aykroyd as Joe Friday, Tom Hanks as his partner and with Harry Morgan appearing as Captain Bill Gannon.
Passings
Barton Yarborough died in 1951 of a heart attack, Ben Alexander died in 1969, Jack Webb in 1982 of a heart attack and George Fenneman in 1997 of emphysema, Harry Morgan died in 2011 of pneumonia he was 96.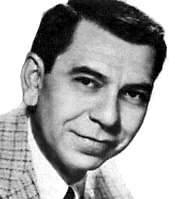 Jack Webb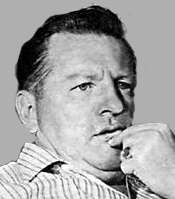 Ben Alexander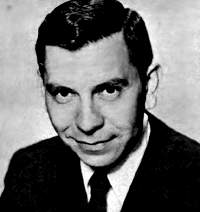 Jack Webb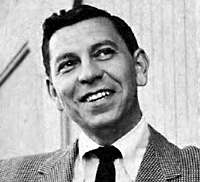 Jack Webb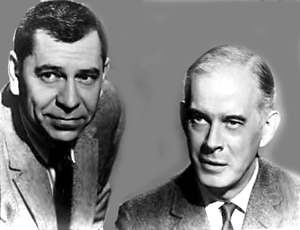 Jack Webb and Harry Morgan