Buy The Dukes of Hazzard on DVD
---
The Dukes of Hazzard
January 26, 1979 – February 8, 1985
145 one hour episodes (7 seasons)
in color CBS
Created by: Gy Waldron and Jerry Rushing
Produced by: Piggy Productions and Lou Step
Theme Song
"Good Ol' Boys"
Written and Performed By: Waylon Jennings
Just the good ole boys.
Never meanin' no harm.
Beats all you never saw,
Been in trouble with the law,
Since the day they was born.
Straight'nin' the curve,
Flat'nin' the hills.
Someday the moutain might get 'em, but the law never will.
Makin' their way,
The only way they know how,
That's just a little bit more than the law will allow.
Just the good ol' boys,
Wouldn't change if they could,
Fightin' the system like a true modern day Robin Hood..
CAST
Tom Wopat
John Schneider
Catherine Bach
Denver Pyle
Ben Jones
Sonny Shroyer
James Best
Sorrell Booke
Waylon Jennings

Luke Duke
Bo Duke
Daisy Duke
Uncle Jesse
Cooter
Enos
Sheriff Rosco Coltrane
Boss Hogg
The Balladeer
STORYLINE
This show is about the exploits of cousins Bo Duke (John Schneider) and Luke Duke (Tom Wopat). They live in Hazzard County, Ga. and are on probation, having been caught in the family business of moon shining. They are joined by their clever Uncle Jesse (Denver Pyle) and their very attractive (and yes, by very attractive I mean sexy) cousin Daisy (Catherine Bach).
Now on the other side of the coin we have, crooked as a dog's hind leg, county commissioner Boss Hogg (Sorrell Booke), his equally crooked yet inept county sheriff Rosco P. Coltrane (James Best). Boss Hogg is usually up to no good either trying to rob, cheat or steal from someone while Bo, Luke and the family try to stop him, there only motive being just "to do the right thing".
One of the ways they usually get out of Boss Hogs traps for them is their super charged 1969 Dodge Charger which they have also used as a stock car which they named "General Lee". The car has a Confederate battle flag painted on the roof and the horn honk played the first twelve notes of the song Dixie. For many fans "General Lee" was the star of the show and you were guaranteed at least one chase scene per episode with record breaking jumps. The car stunts were so extensive that new chargers were having to be located and purchased almost weekly. By mid second season the producers finally started reusing some of the existing film of jumps and crashes to help hold down the both the time and money involved in filming new ones each week.
Although this series was aimed squarely at the male 18-45 demographic it did well enough in the ratings to hang on for seven seasons. One ploy the show used to attract ratings was a Hazzard County speed trap which would "trap" unsuspecting country singing stars speeding and then let them pay their fine by performing at a local club. This brought C&W sensations like Hoyt Axton, The Oak Ridge Boys, Roy Orbison, Buck Owens, Mel Tillis, Tammy Wynette and more in to sing a song at the end of the episode.
Video Clip of Dukes of Hazzard Intro
Passings
Denver Pyle died in 1997 of lung cancer he was 77
Waylon Jennings passed away in 2002 of diabetes he was only 64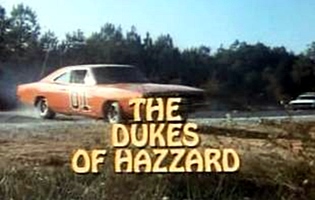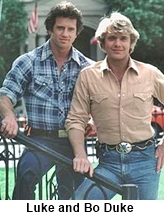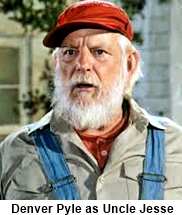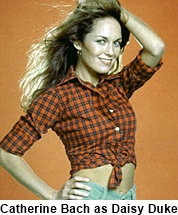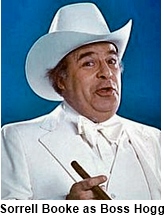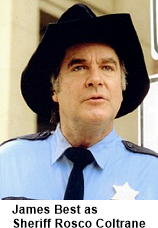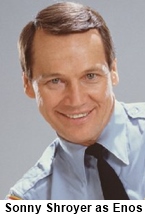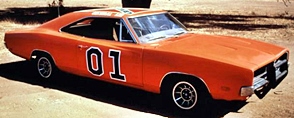 TRIVIA:
Tom Wopat and John Schneider had a legitimate contract dispute with the studio over salary and their share of the product merchandising revenue. As filming started for the fifth season (1982) they didn't show up to work hoping to force the studios hand. Not at all impressed with the actors strong arm tactics they quickly hired two look alike actors and wrote them in as long lost nephews of Uncle Jesse's. Byron Cherry as Coy Duke and Christopher Mayer as Vance Duke were the replacements and they appeared in 17 episodes. Well the studio's "getting tough" didn't work. Ratings plummeted and finally Wopat and Schneider's demands were listened to garnering them and Catherine Bach raises and a piece of the merchandising money.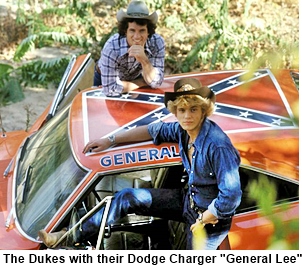 Dukes of Hazzard Review
"Things are different in Hazzard County…" Maybe so, but we loved to watch those Duke boys mess it up with the Sheriff.
The Dukes of Hazzard is a piece of Americana. A guilty pleasure for most of us. Pure fun for all ages.
For me and many others the real star was the General Lee, a Dodge Charger 440. Actually, over 300 of them, as that's how many they went through in the course of the show. The stunts were incredible and all done without CGI effects. John Schneider became so enamored of the car, that he has restored over 20 of them.

Tom Wopat, Catherine Bach,
John Schneider
The comedy was a feel good, down home humor that even those who had never been to Georgia could appreciate. And then too, there were those "Daisy Duke shorts" which would ultimately be displayed in the Smithsonian. Really!
Dukes of Hazzard DVD – First Season
The shows are looking as good as can be expected for 20 years old and the sound is excellent. There are 3 DVDs which are double sided. The Special features are nice but one in particular should please fans. " The 20th Anniversary Hazzard County Barbeque" is a reunion of many of the cast members. The affection is obvious. Also, Catherine Bach and John Schneider offer commenatry for the pilot episode, "One-Armed-Bandits."
One thing I noticed was the absence of Tom Wopat at either the reunion or on the commentary. Pity.
The Special Features are:
" The 20th Anniversary Hazzard County Barbeque" reunion documentary, including cast members Catherine Bach, John Schneider, James Best, Sonny Shroyer, Ben Jones, Peggy Rea, and Rick Hurst and director Paul Baxley" Dukes Driving 101: A High Octane Salute" featurette, including interviews with professional racecar drivers Matt Kenseth (2003 NASCAR champion), Rusty Wallace, Larry Foyt, Robby Gordon, Jason Leffler, and Greg Biffle.Cast Audio Commentary by John Schneider and Catherine Bach on the pilot episode

Tom Wopat, Catherine Bach,
John Schneider
Click to Buy
The Dukes Of Hazzard: The Complete First Season