Buy Ellery Queen on DVD
---
Ellery Queen
September 11, 1975 – April 4, 1976
23 one hour episodes (1 season)
in color
Created by: Richard Levinson and William Link
Produced by: Fairmount/Foxcroft Productions
CAST
Jim Hutton … Ellery Queen
David Wayne … Inspector Richard Queen
Tom Reese … Sgt. Thomas Velie
John Hillerman … Simon Brimmer
STORYLINE
Ellery Queen was a fictional character in a series of books that spanned from 1937 to 1971. He moved to the radio in 1939 and was heard there until the 1970s. It moved to television in 1950 and was reprised again in 1959. This version is it's third run at tv audiences.
Jim Hutton played Ellery Queen in this period piece which was set in the 1940s. David Wayne played his father Richard Queen who was a Police Inspector. Tom Reese as Sgt. Velie helped Ellery's father out with the police work while John Hillerman portrayed a detective who solved crimes on the radio and tried to compete with Ellery. There was alot of suspense but no action in this 'who done it' series which had Ellery using his intellect to sort through the myriad of clues and suspects to solve the crime.
The tv show mirrored the books in that it presented all the clues to the audience and then Ellery would turn to camera and ask "who do you think did it?". The suspects would then all be gathered in one room while Ellery explained how he followed the clues and then exposed the guilty party.
Video Clip of Ellery Queen
Passings
Jim Hutton died in 1979 of liver cancer, he was only 45
David Wayne died of lung cancer in 1995, he was 81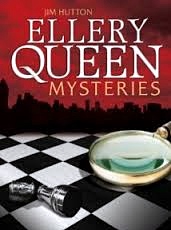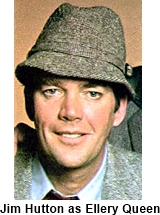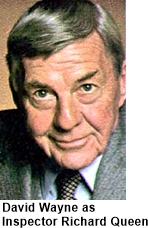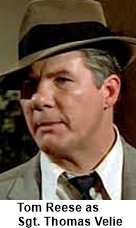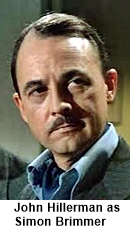 (John Hillerman will go on to
play Higgins in Magnum PI)
TRIVIA:
The original Ellery Queen was a successful series of novels and short stories that covered 42 years. They were written by cousins Frederic Dannay* and Manfred Bennington Lee* in Brooklyn, New York. The pseudonym that the two cousins created has appeared in more than 70 novels, 10 short stories, 11 movies, 3 tv series, comic books andeven board games.
*(Frederic Dannay and Manfred Bennington Lee are both pen names for Daniel Nathan and Manford Emanuel Lepofsky)