Buy F Troop on DVD
Complete First Season (1965)
Complete Second Season (1966)
---
F Troop
September 14, 1965 – April 6, 1967
65 – 1/2 hour episodes (2 seasons)
in B&W (season 1) and color (2nd season) on ABC
Created by: Seaman Jacobs, Ed James and Jim Barnett
Produced by: Warner Bros. Television
CAST
Ken Berry ………….. Captain Wilton Parmenter
Forrest Tucker ……… Sergeant Morgan O'Rourke
Larry Storch ……….. Corporal Randolph Agarn
Melody Patterson ……. Wrangler Jane
James Hampton ………. Trooper Hannibal Dobbs
Joe Brooks …………. Trooper Vanderbilt
Bob Steele …………. Trooper Duffy
Frank DeKova ……….. Chief Wild Eagle
Don Diamond ………… Crazy Cat
Opening Theme
"F Troop" Composed By: Irving Taylor and William Lava
The end of the Civil War was near
When quite accidentally,
A hero who sneezed, abruptly seized
Retreat and reversed it to victory!
His Medal of Honor pleased and thrilled
His proud little family group;
While pinning it on, some blood was spilled
And so it was planned he'd command… F TROOP!
Where Indian fights are colorful sights
And nobody takes a lickin',
Where paleface and redskin
Both turn chicken!
When drilling and fighting get them down
They know their morale can't droop
As long as they all relax in town
Before they resume with a bang and a boom… F TROOP!
STORYLINE
This show was slapstick television from the first wrong-way charge, which is how it starts.
During the Civil War, a lowly private was riding away from the front on a personal errand for an officer. As he started out he started sneezing which scared his horse into a gallop. Both actions confused the rest of the company who then followed him in his "charge". Well this action turned the tide of the battle and the lowly private saw himself promoted to a Captain and given, what would turn out to be, the worst command in the military, Fort Courage which was manned by the F-Troop.
Ken Barry played Captain Parmenter who was a natural klutz. Being awkward at most everything it wasn't to hard for the troop to run their many shenanigans right under his nose. The local Indian Tribe was even in with the troop on various money making schemes.
Sergeant O'Rourke (Forrest Tucker) was the non-commissioned leader of the troop and thought up most of the hijinks. Corporal Agarn (Larry Storch) was his partner in crime and often ran interference with the Captain.
Then there is the fierce and hostile Indian Tribe led by Chief Wild Eagle (Frank DeKova). He had learned from the troop that if there were no wild Indians around that the Army would close Fort Courage and move the troop elsewhere. Since the Tribe shared in the Troop's illegally gotten gains and even participated in many of the schemes it was decided that they should occasionally put on a "Crazy Indian Show".
Last but certainly not least was the Captain's love interest, Wrangler Jane (Melody Patterson) who was the local town's shopkeeper and would have liked to see the Captain settle down and get married… to her that is.
It was a thoroughly delightful and light hearted show. However production costs and a sinking audience doomed the show after just two seasons, it has done very well in post production syndication.
(2) Video Clips of F Troop
Passings
Forrest Tucker died in 1986 of lung cancer, he was 67
Frank Dekova died in 1981 of heart failure, he was 71
Don Diamond died in 2011 of heart failure, he was 90
James Hampton passed in 2021 at 84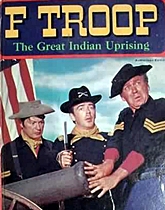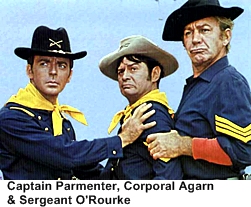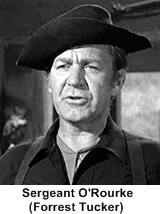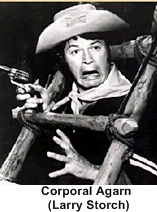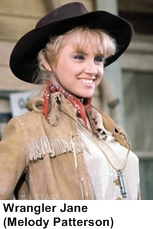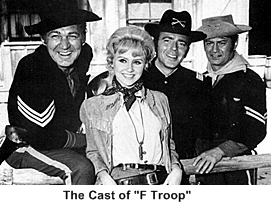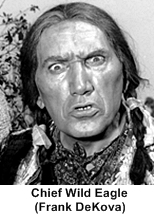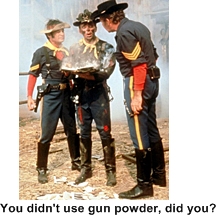 TRIVIA:
The character Wrangler Jane was created as a love interest for Captain Parmenter. After hiring Melody Patterson to play the part the studio discovered that she had lied about her age and was in fact only 16 years old.
Fearing unfavorable reaction they rewrote the character removing any romantic thoughts until Melody turned 18 during the second season. She was then again allowed to have more than just plutonic intentions for the good Captain.