9/19/1965 – 9/8/1974
ABC 60 minutes
Color – 240 episodes
A Quinn Martin Production
Sponsored by Ford Motor Company
F.B.I. Cast
Efrem Zimbalist Jr as Inspector Lewis Erskine
Philip Abbott as Assistant Director Arthur Ward
Stephen Brooks as Special Agent Jim Rhodes (1965-1967)
William Reynolds as Special Agent Tom Colby (1967-1973)
Lynn Loring as Barbara Erskine (1965-1966)
Shelly Novack as Agent Chris Daniels (1973-1974)
F.B.I. Theme Song
"F.B.I. Theme" by Bronislaw Kaper
F.B.I. Tidbits
With the endorsement of then Director J. Edgar Hoover, the show was like an ode to the F.B.I. Hoover even allowed some scenes to be filmed at F.B.I. headquarters in Washington D.C.
Inspector Lewis Erskine (Efrem Zimbalist Jr.) was all business. He didn't laugh, he didn't love, he didn't play. But he usually got his man! Zimbalist, off his 77 Sunset Strip role, was supposedly approved by Hoover personally.
As the show was sponsored by the Ford Motor Company, guess, and you only get one, what type of cars the agents drove?
At the end of many shows, Zimbalist would appear to ask viewer help in finding fugitives and assorted bad guys.
Passings
Shelly Novak died in 1978, Philip Abbott in 1998 of cancer and Stephen Brooks died in 1999 of a heart attack .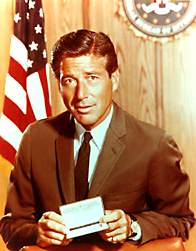 Efrem Zimbalist Jr.
For More Efrem Zimbalist Jr.
See 77 Sunset Strip
External Links
TV Guide's F.B.I. Page, with TV Listings, Photos, Videos, Exclusive News and More.