2/10/1956 – 2/1/1957 CBS
9/1957 – 5/18/1958 NBC (reruns)
Black and White (CBS) Color (NBC)
30 minutes – 39 episodes
Feb. 1956-Feb. 1957 CBS Friday 7:30-8:00
March 1957 CBS Saturday 7:00-7:30
April 1957-May 1957 CBS Sunday 6:00-6:30
June 1957-Aug. 1957 CBS Wednesday 7:30-8;00
Sept. 1957-Dec. 1957 NBC Sunday 6:30-7:00
Jan. 1958-May 1958 NBC Sunday 7:00-7:30
Produced by 20th Century Fox
From the Mary O'Hara book
My Friend Flicka Cast
Johnny Washbrook as Ken McLaughlin
Gene Evans as Rob McLaughlin
Anita Louise as Nell McLaughlin
Frank Ferguson as Gus Broeberg (the Swedish ranch hand)
"Wahama" as "Flicka"
My Friend Flicka Theme Song
"Flicka" by Paul Sawtell
My Friend Flicka Tidbits
Flicka is the story of a boy and his horse. Set at the Goose Bar Ranch in Montana late in the 19th Century, Ken McLaughlin (Johnny Washbrook) and his mother Nell (Anita Louise) and father Rob (Gene Evans) struggled to ranch and deal with the problems of a rough land.
Although filmed in color, CBS ran the show in black and white. When NBC reran it the next year, they showed it in color.
Passings
Anita Louise died in 1970 of a stroke. Frank Ferguson died in 1978 of cancer. Gene Evans died in 1998.
Flicka Trivia
Wahana, an Arabian sorrel, was owned by Ralph McCutcheon, who also owned and trained Fury. Les Hilton was Wahana's trainer. Wahana even had a stunt double – a horse named Goldie!

The horse's actual registry info is: Wahana, AHR*6513, Chestnut, foaled 13 June 1950; sired by Abu Farwa x Mehana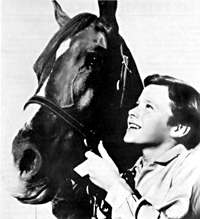 Wahana (Flicka) and Johnny Washbrook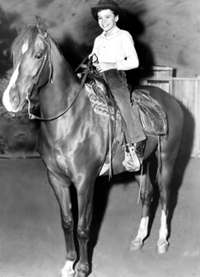 Wahama (Flicka) and Johnny Washbrook
From the Doug Abbott Collection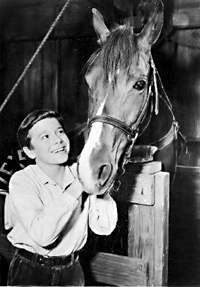 Johnny Washbrook and Wahama (Flicka)