Buy The Flintstones on DVD!
The Complete First Season
The Complete Second Season
The Complete Third Season
The Complete Fourth Season
The Complete Fifth Season
The Complete Sixth Season
Flintstones
9/30/1960 – 9/2/1966
ABC 30 minutes
Color
The Flintstones Comedy Hour
9/9/1972 – 9/1/1973 CBS
The Flintstones Show
9/8/1973 – 1/26/1974 CBS
Created by William Hanna and Joseph Barbera
The New Fred and Barney Show
2/3/1979 – 9/15/1979 NBC
Fred and Barney Meet the Thing
9/22/1979 – 12/1/1979 NBC
Fred and Barney Meet the Shimboo
12/8/1979 – 11/15/1980 NBC
Flintstone Comedy Show
11/22/1980 – 9/11/1982 NBC
Flintstone Funnies
9/13/1982 – 9/8/1984 NBC
The Flintstone Kids
9/13/1986 – 9/3/1988; 1/6/1990 – 9/1990 ABC
Flintstones Cast (Voices)
Alan Reed as Fred Flintstone
Jean Vander Pyl as Wilma Flintstone/Pebbles Flintstone
Mel Blanc as Barney Rubble/Dino (1960; 1963-1966)
Bea Benaderet as Betty Rubble (1960-1964)
Gerry Johnson as Betty Rubble (1964-1966)
Don Messick as Bamm-Bamm Rubble/Arnold the Newsboy/Hoppy the Hopperoo (1963-1966)
John Stephenson as Mr. George Nate Slate (1963-1966)
Verna Felton as Pearl: Wilma's Mother (1963-1966)
Additional Voices:
June Foray, Herschel Bernardi, Walker Edmiston, Naomi Lewis, Howard Morris, Frank Nelson, Hal Smith, Herb Vigran, Doug Young
Flintstones Theme Song
"The Flintstone Theme: Rise and Shine" by William Hanna and Joseph Barbera
"Flintstones, Meet the Flintstones
They're a modern stone age family
From the, town of Bedrock
They're a page right out of history
Let's ride, with the family down the street
Through the, courtesy of Fred's two feet
When you're, with the Flintstones
Have a yabba, dabba, doo time
A dabba doo time
We'll have a gay, old time! "
Flintstones Tidbits – Yabba, dabba, doo
From the creative team of William Hanna and Joseph Barbera, came the Flintstones, as the song says, a stone age family, but with very modern attitudes. We'd never seen anything like this, and besides, it was just plain fun.
Fred and Wilma Flintstone had a daughter, Pebbles, and their best friends, Barney and Betty Rubble adopted a son, Bamm Bamm. Fast forward in time and Pebbles and Bamm Bamm grow up, fall in love, get their own show…
Any resemblance to the "Honeymooners" was purely intentional.
The show spawned nine made for TV movies and two feature films which starred John Goodman as Fred Flintstone.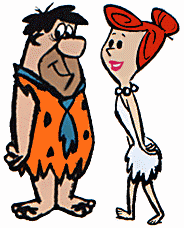 Fred and Wilma Flintstone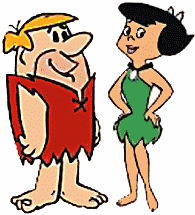 Barney and Betty Rubble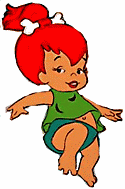 Pebbles Flintstone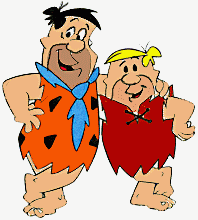 Fred Flintstone and Barney Rubble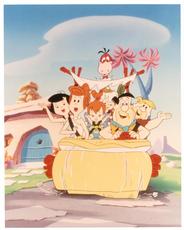 Flintstones Trivia
Year at start: 1,000,040 B.C.

Hometown: Bedrock

Dino (a Snarkasaurus) is the Flintstone family pet

Hoppy (a Hoparoo) is the Rubble family pet

Fred and Barney belong to the Water Buffalo Lodge

Fred is a Dino operator at a gravel company