10/15/1955 – 9/3/1966 NBC
Black and White – 30 minutes – 107 episodes
Syndicated as Brave Stallion
Fury Cast
Peter Graves as Jim Newton
Bobby Diamond as Joey Newton
William Fawcett as Pete Wilkie
Jimmy Baird as Pee Wee (Rodney)Jenkins
Roger Mobley as Packy Lambert
Fury Theme Song
"Fury" by Ernest Gold
Fury Tidbits
Joey (Bobby Diamond), an orphan, had run afoul of the police after a street fight. He was permitted to live with Jim Newton (Peter Graves), a rancher and owner of the Broken Wheel Ranch. Newton had recently lost his wife and children.
Fury was owned and trained by Ralph McCutcheon.
Peter Graves' brother is James Arness, who starred in Gunsmoke. Jimmie Baird's sister is Sharon Baird of the Mickey Mouse Club.
Passings
William Fawcett died in 1974
Bobby Diamond passed in 2019 at 75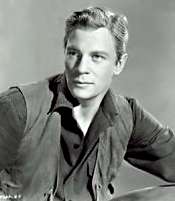 Peter Graves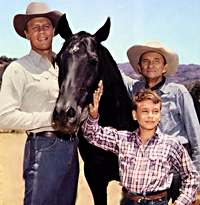 Peter Graves, Bobby Diamond and William Fawcett
From the Doug Abbott Collection
External Links
TV Guide's Fury Page, with TV Listings, Photos, Videos, Exclusive News and More.

William Fawcett, Peter Graves, and Bobby Diamond
From the Doug Abbott Collection