Buy Get Smart on DVD!
Season 1
Season 2
Season 3
Season 4
Season 5
The Complete Series
Get Smart
9/18/1965 – 9/13/1969
NBC 30 minutes
9/26/1969 – 9/11/1970
CBS 30 minutes
Black&White/Color – 138 episodes
Created by
Mel Brooks and Leonard Stern
Get Smart Cast
Don Adams as Agent 86, Maxwell Smart
Barbara Feldon as Agent 99
Edward Platt as The Chief (Thaddeus)
William Schallert as Admiral Harold Harmon Hargrade (1967-1968)
Bernie Kopell as Conrad Siegfried (1966-1969)
King Moody as Starker (1967-1969)
Jane Dulo as 99's Mother (1968-1969)
Joey Forman as Harry Hoo (1966)
Victor French as Agent 44 (1965-1966)
Richard Gautier as Hymie the Robot (1966-1969)
Robert Karvelas as Larrabee (1967-1970)
Stacy Keach Sr. as Carlson (1966-1967)
David Ketchum as Agent 13 (1966-1967)
Al Molinaro as Agent 44 (1969-1970)
Get Smart Theme Song
"Get Smart" by Irving Szathmary
Get Smart Tidbits – Would You Believe?
Maxwell Smart, Agent 86 for CONTROL (Don Adams) was inept, bumbling and just not that bright. But he never let any of those shortcomings deter him from trying to thwart the evil doings of KAOS.
He was assisted in this by the smart Agent 99 (Barbara Feldon) who is always called Agent 99, her mother is Mrs. 99 and so forth.
The head of CONTROL was the Chief (Edward Platt) to whom Smart was always apologizing, "sorry about that, Chief!" Later the Admiral Admiral Harold Harmon Hargrade (William Schallert) would be the guiding force.
The bad boys at KAOS are led by Siegfried (Bernie Koppell) and his assistant Starker (King Moody).
Love blossomed and on November 16, 1968, Agent 99 and Maxwell Smart get married. During the 1969-1970 season, they become parents.
Dick Gautier carried the burden of playing Hymie the Robot, who had been captured from KAOS and reprogrammed. However, you had to be careful because Hymie took every instruction literally.
Passings
Edward Platt died in 1994 of a heart attack and King Moody in 2001. Don Adams died of a lung infection in 2005.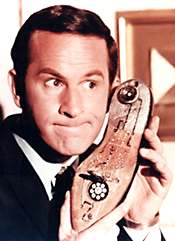 Don Adams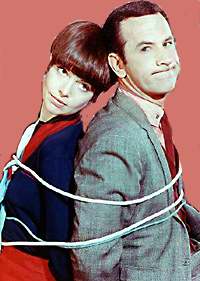 Barbara Feldon and Don Adams
---
BUY ON DVD


Get Smart: Season 1 [DVD](1965)

TV Guide's Get Smart Page, with TV Listings, Photos, Videos, Exclusive News and More.
"GET SMART"
with Steve Carell
2 disk set


Get Smart (Two-Disc Special Edition) [DVD](2008)
Get Smart Trivia
Barbara Feldon really is brainy! She won on the $64,000 Question. Her subject was Shakespeare.Maxwell Smart used the password "Bismark" to enter his bobby-trapped apartment.

Fang was the dog/agent