Buy Good Times on DVD
---
Good Times
February 8, 1974 – August 1, 1979
(133) one half hour episodes (6 seasons)
in color CBS
Created by: Eric Monte and Michael Evans
Developed by: Norman Lear
Opening theme
"Good Times" performed by Jim Gilstrap and Blinky Williams
Good Times.
Any time you meet a payment. – Good Times.
Any time you need a friend. – Good Times.
Any time you're out from under.
Not getting hassled, not getting hustled.
Keepin' your head above water,
Making a wave when you can.
Temporary lay offs. – Good Times.
Easy credit rip offs. – Good Times.
Scratchin' and surviving. – Good Times.
Hangin in a chow line – Good Times.
Ain't we lucky we got 'em – Good Times.
CAST
Jimmie Walker
Esther Rolle
John Amos
Ja'net DuBois
BernNadette Stanis
Ralph Carter
Johnny Brown
Janet Jackson

James J.J. Evans, Jr.
Florida Evans
James Evans, Sr.
Willona Woods
Thelma Evans
Michael Evans
Nathan Bookman
Millicent 'Penny' Woods
STORYLINE
The series was a comedy about the struggles of a black family living in the projects, just trying to get by and get out of their living conditions. Mom was Florida Evans (Esther Rolle) and Dad James Evans Sr.(John Amos) both worked to provide for their three kids while trying to give them the tools that they would need to succeed. The oldest son J.J. (Jimmie Walker) became the breakout star of the show and much of the humor was about or because of his slacker antics. His little brother Michael (Ralph Carter) was a serious young activist, while his sister Thelma (BernNadette Stanis) became the moderator of the many quarrels between the brothers.
The series was unique in that it was a spin-off of a spin-off. Florida was the housekeeper for Maude in her series and Maude was the neighbor of Archie Bunker from All in the Family. This was one of only a couple of such double spin-offs to be successful.
Both Esther Rolle and John Amos felt that after the J.J. character became so popular that the episodes were becoming more and more harmful to young viewers looking for black role models. The uneducated slacker type behavior of J.J. was demeaning to them as well as the audience. John Amos vented his feelings to Norman Lear and was let go at the end of third season. Esther Rolle lasted another year but quit the series at the end of the fourth season.
J.J.'s famous catch phrase was Dy-No-Mite! and since it became a popular modern slang term the writers were instructed to include it a minimum of three times per show.
Video Clip of Good Times
Passings
Esther Rolle died in 1998 of complications from diabetes she was only 78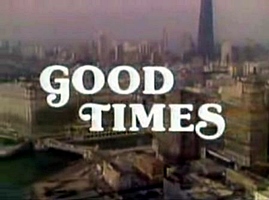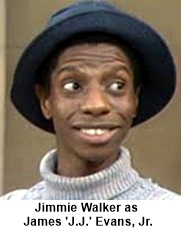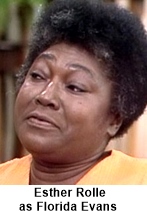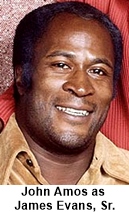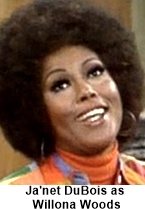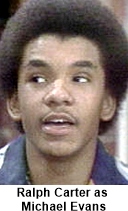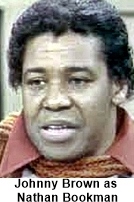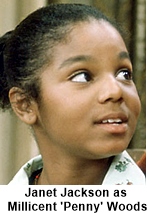 TRIVIA:
Mike Evans left his role (as Lionel) on "The Jeffersons" in order to work behind-the-scenes as a writer for "Good Times". When "Good Times" ended in 1979, Evans returned to "The Jeffersons".
Ja'net Dubois, Willona Woods on Good Times, was also a singer and songwriter who co-wrote and sang the theme song for "The Jeffersons".