Gunsmoke
/10/1955 – 9/1/1975 CBS
(Marshal Dillon – First Season US)
(Gun Law – First Season UK)
Black and White – 1955-1965
Color 1965-1975
30 minutes – 1955-1961 (233 episodes)
60 minutes – 1961-1975 (400 episodes)
Sept. 1955-Sept. 1961 Saturday 10:00-10:30
Sept. 1961-Sept.1967 Saturday 10:00-11:00
Oct. 1961-Sept.1967 Tuesday 7:30-8:00 (reruns)
Sept. 1967-Sept.1971 Monday 7:30-8:30
Sept. 1961-Sept.1975 Monday 8:00-9:00

Gunsmoke Cast
James Arness as Marshal Matt Dillon (1955-1975)
Milburn Stone as Dr. Galen "Doc" Adams (1955-1975)
Amanda Blake as Miss Kitty Russell (1955-74)
Dennis Weaver as Chester Goode (1955-64)
Ken Curtis as Festus Haggen (1964-75)
Burt Reynolds as Quint Asper (1962-65)(blacksmith)
Horse: Buck
Mule (Festus): Ruth
Also:
Roy Barcroft as Roy, townsman (1965-69)
Tom Brown as Ed O'Connor, rancher (1968-72)
Robert Brubaker as Jim Buck, stagecoach driver (1957-62) and
/Floyd, bartender (1974-75)
Budd Buster as Moss Grimmick, stableman (1955-63)
Woody Chambliss as Mr. Lathrop, storekeeper (1966-75)
Howard Culver as Howie Uzzell, hotel clerk (1955-75)
Roger Ewing as Thad Greenwood, deputy (1965-67)
Clem Fuller as Clem, bartender (1959-61)
Kelton Garwood as Percy Crump, undertaker (1968-72)
Dabbs Greer as Wilbur Jonas, storekeeper (1955-63)
Pat Hingle as Dr. John Chapman (1971)
Ted Jordan as Nathan Burke, freight agent (1966-75)
James Nusser as Louie Pheeters, town drunk (1961-70)
Hank Patterson as Hank Miller, stableman (1963-75)
Roy Roberts as Mr. Bodkin, banker (1963-70)
Fran Ryan as Miss Hannah, saloon owner (1974-75)
Charles Seel as Barney Danches, telegraph agent (1965-74)
Sarah Selby as Ma Smalley, boardinghouse owner (1961-72)
Rudy Sooter as Rudy, bartender (1965-67)
Glenn Strange as Sam, bartender (1961-73)
Buck Taylor as Newly O'Brien, gunsmith (1967-75)
Herb Vigran as Judge Brooker (1970-75)
Charles Wagenheim as Halligan, rancher (1966-75)
Gunsmoke Theme Song
"Gunsmoke" by Rex Koury and George Spencer
Gunsmoke Tidbits
Not only was Gunsmoke (1955-1975) TV's longest running Western, it was also television's longest running prime-time series with continuing characters. In total, 233 half-hour episodes and 400 hour episodes were filmed.
Gunsmoke took the #1 rating in the 1957-1958 season – a slot it held thru four more years. Although it had some slump years, by the 1967-1968 season it regained space in the Nielson Top Ten which it held for another 6 years. Color broadcasts began in 1966.
Gunsmoke began on radio in 1952 with William Conrad reading the part of Matt Dillon.
For the rare person unfamiliar with Gunsmoke:
The story takes place in Dodge City.
Matt Dillon (James Arness) is the Marshal;
Miss Kitty (Amanda Blake) runs the Longbranch Saloon where Sam (Glenn Strange) is the bartender;
Chester Goode (Dennis Weaver) and Festus Hagen (Ken Curtis) were the deputies.
The Atcheson, Topeka and Santa Fe Railroad stops in town
The cemetery is Boot Hill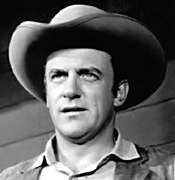 James Arness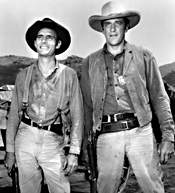 Dennis Weaver and James Arness
From the Doug Abbott Collection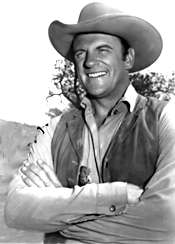 James Arness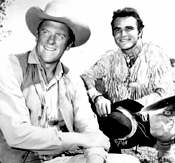 James Arness
and Burt Reynolds
For More Burt ReynoldsSee: Riverboat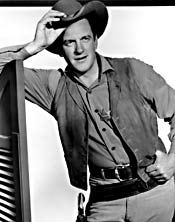 James Arness
From the Doug Abbott Collection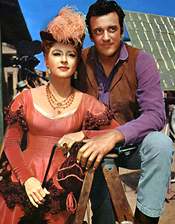 Amanda Blake and James Arness
From the Doug Abbott Collection
Gunsmoke on DVD
Season 1 (1955)
Season 2, Vol 1(1956)
Season 2, Vol. 2 (1957)
Season 3, Vol. 1 (1957)
Season 3, Vol. 2 (1958)
Season 4, Vol. 1 (1958)
Season 4, Vol. 2 (1959)
Season 5, Vol. 1 (1959)
Season 5, Vol. 2 (1960)
Season 6, Vol. 1 (1960)
Season 6, Vol. 2 (1961)
Season 7, Vol 1 (1961)
Season 7, Vol 2 (1962)
Season 8, Vol 1 (1962)
Season 8, Vol 2 (1963)
50th Anniversary Collection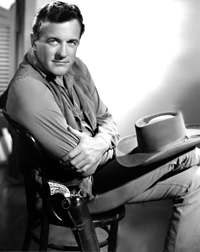 James Arness
From the Doug Abbott Collection
Gunsmoke Trivia
There is some dispute as to whether John Wayne was offered the role of Marshal Dillon, but he is certainly the one who recommended the quiet 6'7 James Arness, brother of Peter Graves, who was about to start his role in Fury. And it was certainly Wayne who introduced the first episode.Click Here to Download or Play (MP3) John Wayne's Introduction