10/7/1959 – 9/10/1963
ABC 60 minutes
Black & White
134 total episodes
Warner Bros. Television
Produced by William T. Orr
Hawaiian Eye Cast
Robert Conrad as Tom Lopaka
Anthony Eisley as Tracy Steele (1959-1962)
Connie Stevens as Cricket Blake
Poncie Ponce as Kim 'Kazuo Kim' Quisado
Grant Williams as Greg MacKenzie (1960-1963)
Mel Prestige as Lt. Danny Quon (1960-1963)
Douglas Mossman as Marty (1959)/Moke (1960-1963)
Troy Donahue as Philip Barton (1962-1963)
Tina Cole as Sunny Day
Hawaiian Eye Theme Song
"Hawaiian Eye Theme" by Jerry Livingston and Mack David
"The soft island breeze brings you strange melodies
And they tell of exotic mysteries under the tropical spell of
Hawaiian Eye. Hawaiian Eye. Hawaiian Eye.
Where love and adventure await
This is your fate and you can not stray from
You can't run away from
Hawaiian Eye. Hawaiian Eye. Hawaiian Eye."
Hawaiian Eye Tidbits
77 Sunset Strip was a hit show located in LA, so Warner Brothers decided, hey, we'll do it again in another tropical locale. So west to Hawaii they went.
Private Eyes Tom Lopaka (Robert Conrad) and his partner Tracy Steele (Anthony Eisley) operate out of an office at the Hawaiian Village Resort. Dirty little job, but hey… They do security work for the hotel as well as hire out to others.
They are often assisted by Kazuo Kim (Poncie Ponce) who runs a one man cab company and always wears a pupute, which is a straw hat for you mainland types. Now Kim had about a zillion relatives, all of whom were helpful to the two detectives.
Cricket Blake (Connie Stevens) was a singer-photographer. Cricket ran the Hotel's gift shop, and sang in the Shell Lounge. Due to her immense popularity with the public, often sang a song or two on each show.
In 1960 Grant Williams joined the cast as new partner Gregg MacKenzie. In 1962, Anthony Eisley left and Troy Donahue arrived. Donahue played Phil Barton who was the Hotel's director of special events. The most special event was that Eisley had gone and Surfside Six, Donahue's other Warners role, had gone but Donahue was too popular to let go.
1962 was bad year for Connie Stevens who collapsed due to overwork and in 1963 was suspended by the studio. Her February 26, 1963 episode "Go Steady With Danger" was the last until March 5 "Two Million Too Much" saw her return.
In the seven episode hiatus they introduced Tina Cole as Sunny Day. (Look, I didn't make the name up – they did!) and eventually, the two actresses appeared together in "Blow Low, Blow Blue" on March 5, 1963. Whew!
Passings
Grant Williams died in 1985 of peritonitis and Troy Donahue died in 2001 of a heart attack.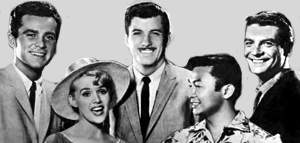 Robert Conrad, Connie Stevens, Anthony Eisley, Poncie Ponce and Grant Williams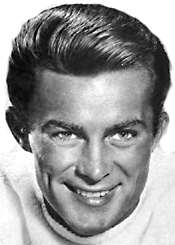 Robert Conrad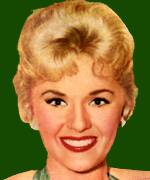 Connie Stevens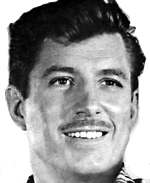 Anthony Eisley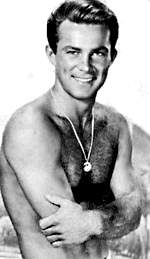 Robert Conrad

Connie Stevens
Hawaiian Eye Trivia
They did some crossovers on these private eye shows. A crossover is where a star from one show appears as his own character but in another show.

To wit on Hawaiian Eye:
Efrem Zimbalist Jr. as Stu Bailey from 77 Sunset Strip appeared in the first episode, "Malihini Holiday" 10/7/1959 and with co-star Roger Smith as Jeff Spencer in "I Wed Three Wives" 9/14/1960.

Richard Long appeared as Rex Randolph from Bourbon Street Beat and 77 Sunset Strip in "Swan Song for a Hero" 12/7/1960.

The Hawaiian Eye cast went to LA to 77 Sunset Strip as well:
Robert Conrad as Tom Lopaka in "Only Zeroes Count"10/2/1959 and "Who Killed Cock Robin?" 2/5/1960