9/10/1967 – 9/10/1971 NBC
Color – 60 minutes – 98 episodes
Sept. 1967-Sept. 1968 Sunday 10:00-11:00
Sept. 1968-Dec. 1970 Friday 7:30-8:30
Feb. 1971-Sept. 1971 Friday 7:30-8:30
Produced by David Dotort (Bonanza)
High Chaparral Cast
Leif Erickson as Big John Cannon
Cameron Mitchell as Buck Cannon
Mark Slade as Billy Blue Cannon
Henry Darrow as Manolito Montoya
Linda Cristal as Victoria Cannon
Frank Silvera as Don Sebastian Montoya
Don Collier as Sam Butler
Robert F. Hoy as Joe Butler
Rudy Ramos as Wind
Horses:
Mackadoo (Manolito)
Rebel (Buck)
Soapy (Blue)
High Chaparral Theme Song
"High Chaparral Theme" by David Rose
High Chaparral Tidbits
Big John Cannon was the determined owner of the High Chaparral Ranch in the Arizona Territory in the 1870s. His better-natured brother Buck assisted.
John's first wife was killed by an Apache arrow in the first episode. Her son Billy Blue, appeared in all but the last season which was no great loss as the character always seemed dim witted to me. Naturally, John immediately remarries the young and beautiful daughter of a local patron. Her brother, Manolito, whom I adored, accompanied her to the High Chapparal. In the last season, they killed off her father as the actor, Frank Silvera had died.
Passings
Leif Erickson died in 1996.
Cameron Mitchell in 1994 of lung cancer,
Frank Silvera in 1970 of an accidental electrocution
Robert Hoy in 2010
Linda Cristal passed in 2020, she was 89
Henry Darrow died in 2021 at 87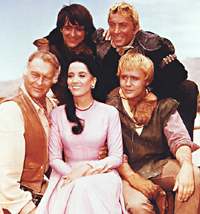 High Chaparral Cast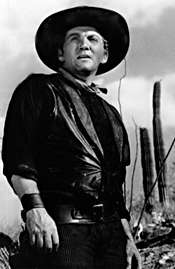 Cameron Mitchell
From the Doug Abbott Collection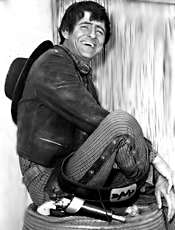 Henry Darrow
From the Doug Abbott Collection
External Links
TV Guide's High Chaparral Page, with TV Listings, Photos, Videos, Exclusive News and More.
Want to Contribute?
I'd love your input on this show!
Email Me with additional info and I'll give you full credit!
| | | | |
| --- | --- | --- | --- |
| Leif Erickson | Mark Slade | Henry Darrow | Linda Cristal |
High Chaparral Episode Guide
Season 1
"Destination Tucson" Episode: #1.1 – 10 September 1967
Joan Caulfield as Annalee Cannon
Mike De Anda as Chavez
Evelyn King as Mabel
Henry Wills as Lt. Ellis
"The Arrangement" Episode: #1.2 – 10 September 1967
Rico Alaniz as Ricardo
X. Brands as Nock-Ay-Del
Jorge Moreno as Chico
"The Ghost of Chaparral" Episode: #1.3 – 17 September 1967
Linda Cristal, Leif Erickson
Patrick Horgan as Anthony Grey, lord Ashbury
Joaquín Martínez as Little Cloud
Carlos Rivas as Jorge
"Best Man for the Job" Episode: #1.4 – 24 September 1967
Leif Erickson, Mark Slade
Lane Bradford as Gilcher
Ron Hagerthy as Morgan
Steve Raines as Cowboy #1
Warren Stevens as Captain Thomas Dabney
Jerry Summers as Ira Bean
Rush Williams as Cowboy #2
"A Quiet Day in Tucson" Episode: #1.5 – 1 October 1967
Henry Darrow, Cameron Mitchell, Mark Slade
Mathilda Calnan as Mrs. MacLeish
Christopher Cary as Fergus McLeish
Richard Devon as Kansas
Marie Gomez as Pearlita Flores
John Milford as Hardicker
Ned Romero as Carlos
Gene Rutherford as Bart Kellogg
Vaughn Taylor as Asa Simmons
"Young Blood" Episode: #1.6 – 8 October 1967
Henry Darrow, Mark Slade
Mike De Anda as Chavez
Alex Montoya as Miguel
"Shadows on the Land" Episode: #1.7 – 15 October 1967
Leif Erickson, Cameron Mitchell
James Almanzar as Soldado
Jan Arvan as Jacinto Perez
Kevin Hagen as Dolph Tanner
Myron Healey as Major Corbett (as Myron Healy)
John Pickard as Jake Coffin
William Tannen as Bartender
Ronald Trujillo as Ramon
"The Filibusteros" Episode: #1.8 – 22 October 1967
Cameron Mitchell, Linda Cristal, Henry Darrow
Roger De Koven as Rudolpho
Abel Franco as Mayor
Anthony James as Harley Deever
Dan O'Herlihy as Jake Lanier
Beverly Powers as Lily
"The Doctor from Dodge" Episode: #1.9 – 29 October 1967
Rico Alaniz as Ricardo
Richard Angarola as Jacques Dubois
X. Brands as Nock-Ay-Del
John Davis Chandler as Kid Curry
Jack Kelly as Doctor John Henry/Holliday
Jorge Moreno as Chico
Erin O'Donnell as Jo
Jerry Summers as Ira Bean
"Sudden Country" Episode: #1.10 – 5 November 1967
Leif Erickson, Cameron Mitchell
Anthony Dexter as Dave Gore
Robert Hernandez as José
Jack James as Sandy
John Kerr as Creed Hallock
John Kerr as Creed Hallock
King Moody as Frank Gore
Michael Ross as Bartender
Jan Shepard as Megan Hallock
Henry Wills as Harmon
"A Hanging Offense" Episode: #1.11 – 12 November 1967
Mark Slade, Leif Erickson
John Baer as Sergeant
Alan Bergmann as Major Anderson
Ken Drake as Lt. Colonel
Don Eitner as Capt. Purdy
Paul Fix as Cochise
Anna Navarro as Indian girl
Denver Pyle as General Warren
"The Price of Revenge" Episode: #1.12 – 19 November 1967
Geraldine Brooks as Fay Leyton
Bern Hoffman as Bartender
Jack James as Heavy
Ralph Meeker as Tracy Conlin
Jackie Searl as Clerk
"The Widow from Red Rock" Episode: #1.13 – 26 November 1967
Cameron Mitchell
Patricia Barry as Mrs. Melanie Cawthorne
Duke Cigrang as Strobe
I. Stanford Jolley as Foreman
Carlos Romero as Romero
"Mark of the Turtle" Episode: #1.14 – 10 December 1967
Anthony Caruso as El Lobo
Pepe Hern as Teofilo
Jack James as Mexican bandit
Robert Lansing as Marshall Virgil Packer
Bill Shannon as Sully
"The Terrorist" Episode: #1.15 – 17 December 1967
Henry Darrow
Paul Bryar as Sgt. Tousseau
John 'Bud' Cardos as Third bandit
Gil Frye as Soldier (as Gilbert Frye)
Walt La Rue as Second bandit
Andrew Orapeza as Farmer
Lalo Rios as First bandit
Ned Romero as Rinaldo
Pilar Seurat as Pilar Castaneda
Henry Silva as Santos Castaneda
"The Firing Wall" Episode: #1.16 – 31 December 1967
Rico Alaniz as El Gato
Robert Carricart as Undertaker
Pedro Gonzales-Gonzales as Bartender
Charles Horvath as Pedro's cousin
Fernando Lamas as El Caudillo
Barbara Luna as Conchita
"The Assassins" Episode: #1.17 – 7 January 1968
James Almanzar as Soldado
X. Brands as Nock-Ay-Del
Geoffrey Deuel as Kelso
Derrick Lewis as Kantu, son of Soldado
"Survival" Episode: #1.18 – 14 January 1968
Leif Erickson, Mark Slade
James Almanzar as Soldado
Robert Phillips as Klosen, Apache loner
"Gold Is Where You Leave It" Episode: #1.19 – 21 January 1968
Cameron Mitchell, Linda Cristal
Ted Gehring as Shorty Bleeson
Leo Gordon as Lije Driskill
Shelby Grant as Dolly
Eddie Little Sky as Alacran
Harry Dean Stanton as Johnny Faro
William Tannen as Bartender
"The Kinsman" Episode: #1.20 – 28 January 1968
Rayford Barnes as Gurney
Raymond Guth as Stableman
Jack Lord as Dan Brookes
Jackie Searl as Storekeeper
William Tannen as Bartender
William Watson as Mace
"Champion of the Western World" Episode: #1.21 – 4 February 1968
Mark Slade
Charles Aidman as Paddy O'Bannion
Walter Brooke as Carney
Marie Gomez as Pearlita
Charles H. Gray as Killjan
Gene Rutherford as Bart Kellogg
George Sims as The Benecia Kid
"Ride the Savage Land" Episode: #1.22 – 11 February 1968
Henry Darrow, Cameron Mitchell
Dennis Cross as Apache brave
Michael Keep as Tobar
Mary Jo Kennedy as Ann
George Keymas as Medicine Man
Murray MacLeod as Lieutenant Tabor
Gregg Palmer as Colonel
Rockne Tarkington as Sergeant
Claire Wilcox as Olive
"Bad Day for a Thirst" Episode: #1.23 – 18 February 1968
Cameron Mitchell
Robert Carson as Allison
Jose De Vega as Sourdough
John Furlong as Halliday
Anthony Jochim as Prospector
Dennis Safren as Saddleblanket
Vince St. Cyr as Apache leader
Adam Williams as Burton
"Tiger by the Tail" Episode: #1.24 – 25 February 1968
Leif Erickson, Linda Cristal
Daniel Ades as Rafael
Noah Keen as Travers
Ricardo Montalban as El Tigre
"The Peacemaker" Episode: #1.25 – 3 March 1968
Mark Slade
Paul Fix as Cochise
Ron Foster as Lt. Corey
Barbara Hershey as Moonfire
Victor Jory as Mr. Kelly
David Renard as Prowling Dog
"The Hair Hunter" Episode: #1.26 – 10 March 1968
James Almanzar as Soldado
Richard Evans as Chad Stoner
James Gregory as Jake Stoner
Jack James as Carlos
Kelly Thordsen as Austin
"A Joyful Noise" Episode: #1.27 – 24 March 1968
Henry Darrow
Angela Clarke as Sister Luke
Laurie Mock as Maria De Las Pinas
Ramon Novarro as Padre Guillermo
Penny Santon as Sister Angelica
Robert Yuro as Ramon
"Threshold of Courage" Episode: #1.28 – 31 March 1968
Leif Erickson, Linda Cristal
Ron Hayes as Stacey Carr
Pat Hingle as Finley Carr
Rex Holman as Jube
Charles Maxwell as Hank
Frank Puglia as Miguel
Season 2
"The Stallion" Episode: #2.1 – 20 September 1968
Mark Slade
Clive Clerk as Chatto
Michael Keep as Natchez
"Ten Little Indians" Episode: #2.2 – 27 September 1968
Johnny 'Vatos' Hernandez as Boy #1
"Follow Your Heart" Episode: #2.3 – 4 October 1968
Ed Begley as Ben Lynch
Polly Burson as Bess
Annette Charles as Jill
Miriam Colon as Trinidad
Graydon Gould as Ed Lynch
Roy Jenson as Frank Lynch
Jeff Pomerantz as Tom Lynch
Abraham Sofaer as Commancho, Trinidad's father
"Tornado Frances" Episode: #2.4 – 11 October 1968
Cameron Mitchell
Polly Burson as Woman #2
Winnie Collins as Woman #1
Ellen Corby as Mrs. Dilts
Kathryn Hays as Miss Frances O'Toole
Harry Hickox as Sheriff
Tom Nolan as Wilbur
Charles Robinson as Warren Bates
Dub Taylor as Oscar Hipple
"The Covey" Episode: #2.5 – 18 October 1968
Henry Darrow, Mark Slade, Cameron Mitchell
Lane Bradford as Roark
Anthony Caruso as El Lobo
Kelly Thordsen as Bruger
Sara Vardi as Pilar
"The Promised Land" Episode: #2.6 – 25 October 1968
Joe Maross as Hank Munn
Joaquín Martínez as Innocente
Alex Montoya as Miguel Morales
Jorge Moreno as Bartender
Ref Sanchez as Emilio
Natividad Vacío as Padre
"Ebenezer" Episode: #2.7 – 1 November 1968
Leif Erickson, Henry Darrow
Helen Kleeb as Mrs. Mulrot
Robert Luster as Camel
John McGiver as Ebenezer Binns
Alex Montoya as Miguel
Tom Reese as Judson
Willard Sage as Pogue/Joe Fox
Leonard Stone as Stoop
"North to Tucson" Episode: #2.8 – 8 November 1968
Linda Cristal
Jack Elam as Mackdin
Ted Jordan as Bayliss
Kevin McCarthy as James Forrest
David Renard as Pablo
Jorge Russek as Molinero
Bee Tompkins as Margaret 'Meg' Forrest
"The Deceivers" Episode: #2.9 – 15 November 1968
Henry Darrow
Bonnie Bedelia as Tina Granger
Robert Loggia as Chio
"The Buffalo Soldiers" Episode: #2.10 – 22 November 1968
Alfred G. Bosnos as Cobb
Robert DoQui as Larrabee
Isaac Fields as Higgins
Charles H. Gray as Lt. Robert D. Beckert
William Jordan as Pearsall
Henry Kendrick as Wetlow
Yaphet Kotto as Sgt. Major Creason
Charles Maxwell as MacAteer
Jess Riggle as Telegrapher
Don Starr as Ollicutt
Morgan Woodward as Hilliard
"For What We Are About to Receive" Episode: #2.11 – 29 November 1968
Christopher Cary as Fergus McLeish
Marie Gomez as Pearlita Flores
Francesca Jarvis as Martha Carter
Hal John Norman as Chief Koso
Ned Romero as Carlos Mendoza
Gene Rutherford as Bart Kellogg
Barry Sadler as Robbie McLeish
Don Starr as Dan Carter
"A Way of Justice" Episode: #2.12 – 13 December 1968
Leif Erickson, Henry Darrow
Antony Carbone as Mitch
Frank DeKova as Aguirre
Kathleen Freeman as Maude
Joaquín Martínez as Luis
Denny Miller as Kolos
Fernando Pereira as Rodriguez
Rosa Turich as Mamacita
Mills Watson as Cable
"Our Lady of Guadalupe" Episode: #2.13 – 20 December 1968
Henry Darrow, Cameron Mitchell
Mike De Anda as Garcia
Bill Fletcher as Gillis
Ricardo Montalban as Padre Sanchez
Norbert Schiller as Peletier
Jan Shepard as Mavis
"Sea of Enemies" Episode: #2.14 – 3 January 1969
Mark Slade
John Pickard as Sergeant Williams
Paul Winfield as Graham Jessup
"Shadow of the Wind" Episode: #2.15 – 10 January 1969
Henry Darrow, Leif Erickson
Luke Askew as Johnny Ringo
Charles Bail as Curly Bill Brocias
Charles Horvath as Burt Alvord
Fred Krone as Ike Simes
Fabrizio Mioni as Nickanora
Julia Montoya as Senora
Boyd 'Red' Morgan as Buckskin Frank Leslie
Olga Velez
"No Irish Need Apply" Episode: #2.16 – 17 January 1969
Henry Darrow, Leif Erickson
Charles Bastin as Novak
Robert Cornthwaite as Belding
Eddie Firestone as Sean McLaren
Ed Peck as Capt. Slater
William Tannen as Marshal
Charles Tyner as Scanlon
John Vernon as Gregg
Garry Walberg as O'Fierna
"The Last Hundred Miles" Episode: #2.17 – 24 January 1969
Leif Erickson
Walter Brooke as Robert Morris
Robert Clary as Lucien Charot
James Gavin as Heffner
Michael Keep as Cochise
Jackie Searl as Carter
David Sharpe
Tom Tully as General Tirrel
Olga Velez
"The Glory Soldiers" Episode: #2.18 – 31 January 1969
Henry Darrow
Elizabeth Allen as Sister Ellie Strong
Anthony Caruso as El Lobo
Martin Garralaga as Francisco
Sean McClory as Sandy McIntire
Beatriz Monteil as Carla
Jorge Moreno as Ramon
John Quade as Bartender
Frank Ramírez as Frank Ramirez
Lenore Stevens as Teresa
Heidi Vaughn as Sister Mercy
"Feather of an Eagle" Episode: #2.19 – 7 February 1969
Mark Slade, Cameron Mitchell
Alicia Bond as Terza
Quentin Dean as Sarah
Frank Ramírez as Santos
"Once on a Day in Spring" Episode: #2.20 – 14 February 1969
Rodolfo Acosta as Vaquero
Kathleen Crowley as Countess Maria Kettenden von München
Martin Garralaga as Francisco
"Stinky Flanagan" Episode: #2.21 – 21 February 1969
Marie Gomez as Perlita
Frank Gorshin as Patrick "Stinky" Flanagan
Ken Mayer as Sgt. Cochrane
Richard X. Slattery as Captain
Mike Wagner as Bartender
"Surtee" Episode: #2.22 – 28 February 1969
Leif Erickson, Mark Slade
Phillip Avenetti as Indian brave (as Phil Avenetti)
Jerry Daniels as Cubero
Christopher Dark as Chato
Susannah Darrow as Quintana
John Dehner as Captain Surtee
"A Fella Named Kilroy" Episode: #2.23 – 7 March 1969
Charles Bail as Ben Burris
Bert Freed as Telford Burris
Ron Hayes as Orville Kilroy
Bill Shannon as Dan Burris
"No Bugles, No Drums" Episode: #2.24 – 14 March 1969
Cameron Mitchell
Pamelyn Ferdin as Jennie Simmons
Jerry Gatlin as Jonas
Bethel Leslie as Mrs. Annie Simmons
William Sylvester as Jack Simmons
Gregory Walcott as Truescott
"The Lion Sleeps" Episode: #2.25 – 28 March 1969
Linda Cristal, Henry Darrow
Rico Alaniz as Armando
Brenda Benet as Anita de Santiago y Amistad
Martin Garralaga as Francisco
Alberto Monte as Bandito
Jorge Russek as El Coyote
Luis de Córdova as Doctor
"For the Love of Carlos" Episode: #2.26 – 4 April 1969
Linda Cristal
Michael Ansara as Alberto Ruiz
Kevin Burchett as Ted
Pamelyn Ferdin as Charity
Fernando Pereira as Fernando
Sara Vardi as Constancia
Season 3
"Time of Your Life" Episode: #3.1 – 19 September 1969
Mark Slade
David Mark Farrow as Frank
Ted Gehring as Jed Fox
Duane Grey as Matt
James Mitchum as Johnny Keogh
Lani O'Grady as Penny
Gene Shane as Fletch
"A Time to Laugh, A Time to Cry" Episode: #3.2 – 26 September 1969
Henry Darrow – romantic
Donna Baccala as Mercedes Vega de Grenada
Argentina Brunetti as Duena
Victor Campos as Teniente
Julio Medina as Sanchez
"The Brothers Cannon" Episode: #3.3 – 3 October 1969
Cameron Mitchell, Leif Erickson
Lou Frizzell as Jeff Patterson
"A Piece of Land" Episode: #3.4 – 10 October 1969
Cameron Mitchell, Henry Darrow
Lou Frizzell as Jeff Patterson
Miguel Ángel Landa as Jaime
John Zaremba as Price
"Bad Day for a Bad Man" Episode: #3.5 – 17 October 1969
Henry Darrow, Linda Cristal
Marianna Hill as Juanita
Mark Tapscott as Hanniman
Malachi Throne as Matar
Robert Yuro as Kyle
"To Stand for Something More" Episode: #3.6 – 24 October 1969
Mark Slade
Rico Cattani as Felipe
Gino Conforti as Raul
Mike De Anda as First guard
Don Diamond as Miguel
Troy Melton as Upjohn
Boyd 'Red' Morgan as Clarence
"Trail to Nevermore" Episode: #3.7 – 31 October 1969
Leif Erickson, Linda Cristal, Henry Darrow
Rayford Barnes as Lippert
Fabian Dean as Moore
Milton Selzer as Sody Marcum
Bo Svenson as Bennett
"Apache Trust" Episode: #3.8 – 7 November 1969
Ron Feinberg as 'Grizzly' Griswald
Chief Dan George as Chief Morales
Mark Jenkins as Lt. Mulvaney
Evans Thornton as Col. Willkampf
"Lady Fair" Episode: #3.9 – 14 November 1969
Cameron Mitchell – romantic
Joanna Cook Moore as Charlene "Charly" Converse (as Joanna Moore)
Joseph Ruskin as Ainsworth Pardee
Dub Taylor as Fargo Smith
"The Lost Ones" Episode: #3.10 – 21 November 1969
Linda Cristal, Henry Darrow
Christopher Dark as Ramadan
Richard Lapp as Nemo
"The Legacy" Episode: #3.11 – 28 November 1969
Mark Slade, Linda Cristal
John Dehner as Gar Burnett
Pamela Dunlap as Patricia "Trece" Burnett
"Alliance" Episode: #3.12 – 12 December 1969
Henry Darrow
X. Brands as Tularosa
Donald Buka as Maj. Ramsey
Jay D. Jones as Lt. Cooper
Kahana as Keono
Tyler McVey as Col. Shelton
Robert Viharo as Johnny Ringo
"The Little Thieves" Episode: #3.13 – 26 December 1969
Cameron Mitchel, Henry Darrow
Jo Ann Harris as Anna Croswell
Dick Haynes as Sheriff Towers
John McKee as Wilson
Don Melvoin as Hendricks
Heather Menzies as Elizabeth Roberts
William Sylvester as Lafe Croswell
Alan Vint as Tim Parker
Bill Vint as Cleve Parker
"The Long Shadow" Episode: #3.14 – 2 January 1970
Richard Anders as Deacon
Richard Farnsworth as Lloyd
Dan Kemp as Rohde
Steve Raines as Bayliss
Dan Scott as Rollins
Gregory Sierra as Arrigo
Paul Sorenson as Beckert
William Vaughn as Matheny
"The Journal of Death" Episode: #3.15 – 9 January 1970
John Colicos as Matthew Kendall
Morgan Woodward as U.S. Marshal Ted Garnett
"Friends and Partners" Episode: #3.16 – 16 January 1970
Cameron Mitchell, Henry Darrow
Howard Caine as Sanchez
Charles Dierkop as Slim
Miguel Ángel Landa as Miguel
"Jelks" Episode: #3.17 – 23 January 1970
Don Melvoin as Hendricks
Mitch Ryan as Jelks
Henry Wills as Murph
"The Guns of Johnny Rondo" Episode: #3.18 – 6 February 1970
Patrick Sullivan Burke as Bartender
Steve Forrest as Johnny Rondo
Mel Gallagher as Jason Tate
Roy Jenson as Jedediah "Jed" Tate
Jim Nolan as McKendrick
Harvey Parry as Amos
Kurt Russell as Dan Rondo
Kurt Russell as Dan Rondo
Wayne Storm as Joshua Tate
"Mi Casa, Su Casa" Episode: #3.19 – 20 February 1970
William Bagdad as Juan
Pedro Gonzales-Gonzales as Pepe
Michael Keep as Chiopana
Lew Palter as Jorge
"The Lieutenant" Episode: #3.20 – 27 February 1970
Renne Jarrett as Martha Simmons
Donald Moffat as Henry Simmons
Robert Pine as Lt. Jason Adams
Stuart Randall as Gen. Morris
Garry Walberg as Sgt. Wilson
"The Reluctant Deputy" Episode: #3.21 – 6 March 1970
Mark Slade, Cameron Mitchell, Henry Darrow
Foster Brooks as Drunk
Robert Donner as Sam Pelletier
Charles Durning as Hewitt
Dan White as Sheriff Prentiss
"New Hostess in Town" Episode: #3.22 – 20 March 1970
Linda Cristal, Cameron Mitchell
Ed Bakey as Bates
Jim Davis as Robbins
Paul Fierro as Domingo
Todd Martin as Gideon
Natividad Vacío as Major Domo
Mills Watson as Greer
"Too Many Chiefs" Episode: #3.23 – 27 March 1970
Noah Beery Jr. as Hannibal Clay
Michael Keep as Chiopana
Monte Landis as Tailor
Sherry Miles as Margaret Louise
Howard Morton as Proprietor
Richard Peel as Carriage driver
"Auld Lang Syne" Episode: #3.24 – 10 April 1970
Cameron Mitchell
Tony Epper as Hanley
Jonathan Lippe as Harry Lark
Gregory Walcott as Capt. Winslow
"Generation" Episode: #3.25 – 17 April 1970
Mark Slade
Aspa Nakapoulou as Angelina
"No Trouble at All" Episode: #3.26 – 5 May 1970
Linda Cristal
Ivan Naranjo as Apache #2
Felice Orlandi as Felipe
Tony Russel as Ricardo
Vince St. Cyr as Apache #1
William Watson as Brady
Season 4
"An Anger Greater than Mine" Episode: #4.1 – 18 September 1970
Leif Erickson
Nico De Silva as Pepe
Nate Esformes as Francisco
Alejandro Rey as Diego de la Paula
Valentin de Vargas as Rodrigo
"Spokes" Episode: #4.2 – 25 September 1970
Cameron Mitchell
Robert Anderson as Ben Thompson
E.J. André as Jones
Walter Barnes as Bartender
Tom Brown as Cap
Stephen Coit as Clem Fogarty
William Conrad as 'China' Pierce
Edgar Daniels as Storekeeper
Harold Holmes as Cowboy
James Jeter as Bum #1
Don Keefer as Telegrapher
Geoffrey Lewis as Bum #2
Larry D. Mann as Tobin Boggs
Stuart Nisbet as Conlin
Ollie O'Toole as Café owner
Clint Ritchie as Kansas
Solomon Sturges as Bod Pierce
Clay Tanner as Jesse
Tom Toner as Doctor
Vincent Van Patten as Culley
"Only the Bad Come to Sonora" Episode: #4.3 – 2 October 1970
Henry Darrow
Ed Bakey as Jubel
Margarita Cordova as Constanza
Bruce Dern as Wade
Paul Fierro as Bartender
James Gammon as Lafe
Ralph Manza as Gomez
Joaquín Martínez as Peon
Than Wyenn as Gonzales
"Wind" Episode: #4.4 – 9 October 1970
R.G. Armstrong as Henderson
Scott Brady as Fraley
Tyler McVey as Todd
Steve Raines as Trent
Mark Tapscott as Colton
Dan White as Dirt Smith
Henry Wills as Tommy
"A Matter of Survival" Episode: #4.5 – 16 October 1970
Linda Cristal
Barry Sullivan as Dan Caseman
"It Takes a Smart Man" Episode: #4.6 – 23 October 1970
Cameron Mitchell, Leif Erickson
Carle Bensen as Banker
Wes Bishop as Carter
Richard Bradford as Tulsa Red
Sam Jarvis as young man
Garry Walberg as Bartender
"A Good Sound Profit" Episode: #4.7 – 30 October 1970
Leif Erickson, Henry Darrow, Linda Cristal
Edward Colmans as Sanchez
Joe De Santis as Colonel Ruiz
Harold Gould as Carlisle
"Too Late the Epitaph" Episode: #4.8 – 6 November 1970
Henry Darrow
Gordon Dilworth as Judge
John Gilgreen as Bailey
Raymond Guth as Guard
Monte Markham as Marshal Dave Redman
John Myhers as Stoker
Mayf Nutter as Roy Ladder
Willard Sage as David Redmond
Jack Williams as Luther, stagecoach driver
Jerry Wills as Haunch
"The Forge of Hate" Episode: #4.9 – 13 November 1970
Michael Baseleon as Grey Wolf
Alan Caillou as Hanrahan
Robert Loggia as Two Pony
Raymond Mayo as Longly
Ted de Corsia as Dull Knife
"Fiesta" Episode: #4.10 – 20 November 1970
Cameron Mitchell
Rico Alaniz as Jorge Martinez
Miguel Alejandro as Beto
Pilar Del Rey as Mrs. Martinez
Rodolfo Hoyos Jr. as Bartender
Dan Kemp as Tim
Ken Mayer as One-Eyed Cowboy
Julio Medina as First man
Nehemiah Persoff as Homero José
Monika Ramirez as Elena
Carlos Romero as Sargente
Felipe Turich as Stableman
"A Matter of Vengeance" Episode: #4.11 – 27 November 1970
Robert Donner as Wilby
John J. Fox as Bartender
Warren J. Kemmerling as Reese
William Lucking as Gait
Priscilla Pointer as Mrs.Colton
Barry Sullivan as Dan Caseman
"Pale Warrior" Episode: #4.12 – 11 December 1970
X. Brands as Eenah/Tularosa
Harry Lauter as Mobley
Frank Webb as Talbot
Henry Wills as Tommy
"The Badge" Episode: #4.13 – 18 December 1970
Leif Erickson, Cameron Mitchell
Lew Brown as Parsons
Robert Broyles as Loosh
Gary Busey as Rafe
Jonathan Lippe as Mobley
Alan Oppenheimer as Sweets
Henry Wills as Tommy
Morgan Woodward as Billings
"The New Lion of Sonora – Part 1 & 2"
Episode: #4.14 – 19 February 1971
Episode: #4.15 – 26 February 1971
Death of Don Sebastian Montoya
Dehl Berti as Fuentes
Roger C. Carmel as General Casados
Robert Carricart as Proprietor
Nico De Silva as Guard #1
Eddra Gale as Lola
Myron Healey as Tommy
Albert Paulsen as Nervo
Lou Peralta as Guard #2
Amparo Pilar as Girl
Gilbert Roland as Don Domingo de Montoya
Ref Sanchez as Peon
Ernest Sarracino as Bartender
Eunice Suarez as Wife
Malachi Throne as Julio Armendaris
Valentin de Vargas as Rodrigo
"Sangre" Episode: #4.16 – 5 March 1971
David S. Cass Sr. as Corporal
Kaz Garas as Sangre
Charles Maxwell as Lt. Allen
Pat Renella as Sergeant
Evans Thornton as Major Benson
Jerry Wills as Trooper McAdam
"The Hostage" Episode: #4.17 – 12 March 1971
Joe Don Baker as Yuma
Ken Drake as Marshal
Rick Gates as Cullen Davidson
Ted Gehring as Bo Bodeen
Tani Guthrie as Meelie Bodeen
Kermit Murdock as Seechrist
Edmond O'Brien as Morgan MacQuarie
Woodrow Parfrey as Pruitt
Bobby Riha as Benji
"A Man to Match the Land" Episode: #4.18 – 19 March 1971
Alan Dexter as Doctor
Myron Healey as Taylor
Michael Keep as Red Eagle
Jennifer Rhodes as Tanea
Albert Salmi as White Horse/Pal Morrison