BUY ON DVD
The Complete First Season (1955)
The Complete Second Season (1956)
The Complete Third Season (1957)
The Complete Fourth Season (1958)
Highway Patrol
1955-1959 Syndicated 30 minutes
Black & White – 156 total episodes
ZIV TV
Highway Patrol Cast
Broderick Crawford as Chief Dan Mathews
William Boyett as Sergeant Ken Williams (1959)/Officer Johnson (1955-1958)
Guy Williams as Officer Hanson
Art Gilmore as Narrator
Highway Patrol Theme Song
"Highway Patrol" by Ray Llewellyn
Highway Patrol Tidbits
A police show which featured Borderick Crawford as Captain Dan Matthews. For an officer of his rank, he spent a lot of time in patrol car barking "10-4 10-4." Highway Patrol had a great appeal for young guys as it had great car chases.
Passings
Broderick Crawford died in 1986.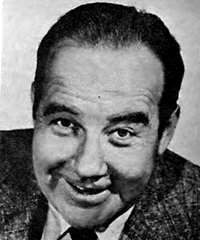 Broderick Crawford
External Links
TV Guide's Highway Patrol Page, with TV Listings, Photos, Videos, Exclusive News and More.