Click to Buy on DVD
Season 1
Season 2
Season 3
Season 4
Season 5
Season 6
Komplete Series, Kommandant's Kollection
Hogan's Heroes
9/17/1965 – 7/4/1971
CBS 30 minutes
Black & White/Color
168 total episodes
Bing Crosby Productions
Based on "Stalag 17" as resolved by a plagiarism lawsuit brought by Donald Bevan and Edmund Trzinski
Cast
Bob Crane as Colonel Robert Hogan
Werner Klemperer as Colonel Wilhelm Klink
John Banner as Sgt. Hans Schultz
Robert Clary as Cpl. Louis LeBeau
Richard Dawson as Cpl. Peter Newkirk
Ivan Dixon as Sgt. James Kinchloe (1965-1970)
Larry Hovis as Sgt. Andrew Carter
Kenneth Washington as Sgt. Richard Baker (1970-1971)
Leon Askin as General Alfred Burkhalter
Howard Caine as Major Wolfgang Hochstetter (1967-1971)
Jon Cedar as Cpl. Langenscheidt
Cynthia Lynn as Helga (1965-1966)
Sigrid Valdis as Hilda (1966-1970)
Hogan's Heroes Theme Song
"Hogan's Heroes March" by Jerry Fielding
Hogan's Heroes Tidbits
Hogan's Heroes was a comedy about a World War II Nazi POW camp. Played strictly for laughs, it presented a lighthearted view of a group of Allied prisoners who lived a high life right under the noses of their Nazi captors.
Colonel Robert Hogan (Bob Crane) was the ranking American officer at Stalag 13 which included French (LeBeau) and English (Newkirk) prisoners as well. The commandent, Colonel Klink (Werner Klemperer) was an incredibly inept administrator who got no help from his aide, the stumbling Sgt. Shultz (John Banner). Shultz lived in mortal fear of being transferred to the Russian front and spent a good deal of time disavowing knowledge of the inmates' capers. "I know nuting, nuting."
Newkirk (Richard Dawson) was an excellent mimic and forger, LeBeau (Robert Clary) was the chef, Sgt. Carter (Larry Hovis) was an explosives expert and Sgt. Kinchloe (Ivan Dixon) an electronics expert.
Now the prisoners at Stalag 13 had the place decked out for convenience and could have escaped at any time. But secretly they were working for the Allies, smuggling downed pilots and information out.
The real life stories of these actors are more grim. Both Banner and Klemperer had escaped the Nazis by coming to the U.S. Banner, an Austrian Jew, had his entire family wiped out by the Nazis. Robert Clary (LeBeau) had actually been interned in a Nazi concentration camp when he was child.
Bob Crane went on to "The Bob Crane Show," which was a short-lived attempt that lasted only 14 episodes. Bob Crane was murdered in 1978 (see below).
Passings
John Banner died in 1973 of an abdominal hemorrhage, Bob Crane was murdered in 1978 and Werner Klemperer died in 2000 of a heart attack. Larry Hovis died in 2003 of cancer. Leon Askin in 2005 of natural causes. Sigrid Valdis died in 2007 of lung cancer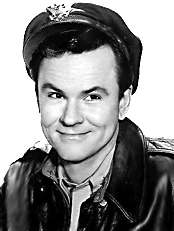 Bob Crane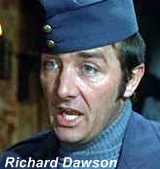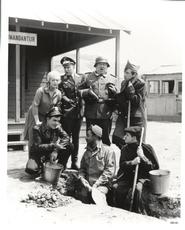 The Cast of Hogans Heroes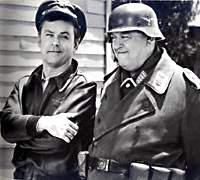 Bob Crane and John Banner

Bob Crane and John Banner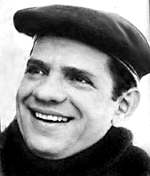 Robert Clary
Hogan's Heroes Trivia
The Unsolved Murder of Bob Crane
Movie Biography – "Auto Focus" DVD and
Bob Crane's bludgeoned body was found on June 19, 1978 in Scottsdale, Arizona. He was in bed, curled in a fetal position with a cord tied around his neck. No physical signs of a struggle were apparent. The coroner said he was asleep. Crane was 49 years old.
Crane obsessed with sex, cameras, and videos and developed his own film and photographs. Porno. In fact, some of these pictures are evidently available by membership at his own son's website. Really.
Crane had married the actress who played Helga, Sigrid "Patty" Valdis but they were separated and relations were not cordial.
Richard Dawson had introduced him to John Carpenter. This was a natural. Carpenter was an early expert on videotaping and shared Crane's love of scoring with women. He helped with the movies and got Crane's spillover women.
Past here it gets murky. Carpenter was tried in 1992 for the murder but a jury didn't convict. The evidence was too flimsy. A small blood splatter in Carpenter's rental car was of Crane's rare blood type. This is all that could be confirmed. The supposed motive was rejection by Crane coupled with an unpaid $15,000 debt.
No one knows for sure.
Hogan's Heroes Season 1 Gallery
These pictures are copyright Paramount Pictures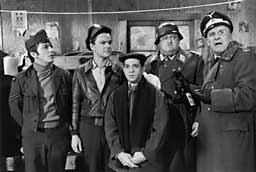 Richard Dawson,Bob Crane, Bob Clary, John Banner, Werner Klemperer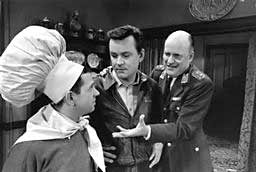 Bob Clary, Bob Crane, Werner Klemperer

Bob Crane, Bob Cleary, Larry Hovis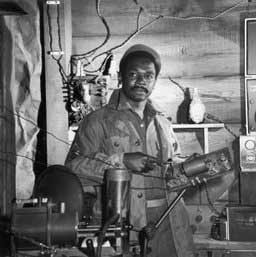 Ivan Dixon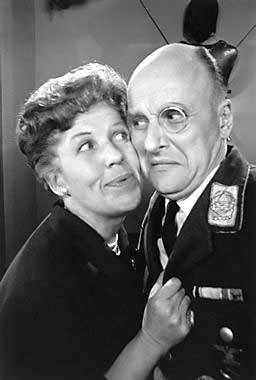 Cynthia Lynn, Werner Klemperer