Buy House Calls on DVD
House Calls has not been released in DVD by the studio. I will update this if it becomes available.
---
House Calls
December 17, 1979 – May 27, 1982
(57) one half hour episodes (3 seasons)
in color on CBS
Produced By: Sheldon Keller and Jerry Davis
CAST
Wayne Rogers
Lynn Redgrave
Ray Buktenica
David Wayne
Sharon Gless

Dr. Charley Michaels
Ann Anderson
Dr. Normon Solomon
Dr. Amos Weatherby
Jane Jeffries
STORYLINE
House Calls was a hospital based comedy about a chief administrator, Ann Anderson (Lynn Redgrave) and the talented but unorthodox doctors she had to keep corralled for the sake of the hospital. Ah but there was a complication, she was also involved with one of them.
Dr. Charley Michaels (Wayne Rogers) from "MASH" was her love interest and also the most unruly of the Docs. His partner in crime was Dr. Normon Solomon (Ray Buktenica) from "Rhoda" and the senior Doctor on staff was Dr. Amos Weatherby (David Wayne) who tolerated their shenanigans only because they were good Doctors. Rounding out the staff were Head Nurse Bradley (Aneta Corsaut) from "The Andy Griffith Show" and over the hill candy striper Mrs. Phipps (Deedy Peters).
Due to disputes with the producers (*see Trivia below) Lynn Redgrave was replaced by Sharon Gless in the second season. Unfortunately the series was canceled during the next season. Lyn Redgrave was nominated for a Emmy for her role and moved on to star in "Teachers Only" the following year. Sharon Gless immediately went to "Cagney & Lacey" the role she is probably best remembered for.
Video Clip of House Calls Intro
Passings
Lynn Redgrave passed away in 2010 of breast cancer, she was only 67
David Wayne died in 1995 of lung cancer, he was 81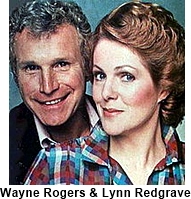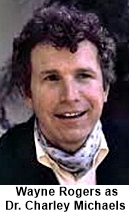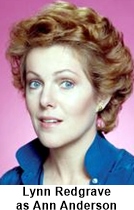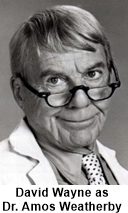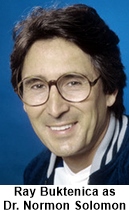 TRIVIA:
Lynn Redgrave left the series in 1981 in a very public dispute with Universal Television. The studio claimed that the dispute related to her salary, while Redgrave claimed that the studio refused to allow her to breast feed her newborn daughter in between takes on the set. Redgrave sued the studio, but lost when the litigation was dismissed thirteen years later. Sharon Gless replaced Redgrave for the remainder of the series.