Click to Buy on DVD
Complete 1st Season – B&W version
Complete 1st Season – Color version
Complete 2nd Season
Complete 3rd Season
Complete 4th Season
Complete 5th Season
I Dream of Jeannie
9/18/1965 – 9/1/1970
NBC 30 minutes
Black and White (1st season) Color
139 total episodes
Produced by Sidney Sheldon
Screen Gems Productions
Sept. 1965 – Sept. 1966 Sat. 8:00-8:30
Sept. 1966 – Sept. 1967 Mon. 8:00-8:30
Sept. 1967 – Sept. 1968 Tues. 7:30 -8:00
Sept. 1968 – Sept. 1969 Mon. 7:30-8:00
Sept. 1969 – Sept. 1970 Tues. 7:30-8:00
Jeannie
9/8/1973 – 8/30/1975 (annimated)
Julie McWhitter as voice of Jeannie
Hanna-Barbera Productions
I Dream of Jeannie Cast
Barbara Eden as Jeannie
Larry Hagman as Capt./Major Anthony Nelson
Bill Daily as Capt./Major Roger Healey
Hayden Rorke as Col. Alfred E. Bellows, M.D.
Emmaline Henry as Amanda Bellows (1966-1970)
Vinton Haworth as General Winfield Schaeffer (1969-1970)
Barton MacLane as General Martin Peterson (1965-1969)
Philip Ober as Gen. Wingard Stone (1965-1966)
Jeannie's dog – Gin-Gin (also a genie)
I Dream of Jeannie Theme Song
"I Dream of Jeannie" by Hugo Montenegro, Buddy Kaye and Richard Weis
I Dream of Jeannie Tidbits
Air Force Captain Anthony Nelson (Larry Hagman) is stranded on the proverbial desert island in the South Pacific after crash landing in his NASA spacecraft. What does he find on the beach? A bottle with a genie in it! The genie, he calls, what else, Jeannie, tells him that he is now her "master." Whereupon she promptly produces a rescue helicopter for him. Okay, it's sexist and times have mercifully changed, but this is TV in the Sixties.
Now Tony is the only man ever born who would turn down a beautiful Barbara Eden clad in a harem outfit. But realizing how difficult this would be, he frees her. However, Jeannie had other ideas and sneaks back to Cocoa Beach, Florida with Tony.
Once Tony accepted Jeannie's presence, he made her vow not to do magic or use her powers. (Yes, just likeBewitched.) She tried to comply, but she was always blinking Tony into and out of trouble.
Eventually, Tony's friend Captain Roger Healey (Bill Daily) figures out about Jeannie. Courtesy of Jeannie's blinking, Tony's and Roger's behavior is sometimes erratic, which attracts the attention of the base shrink, Col. Alfred E. Bellows (Hayden Rorke).
Although Tony was engaged in the first season to General Stone's daughter, Melissa, Jeannie made quick work of her and she was gone. During the first seasons, it is implied that Jeannie and Tony are just friends. Not that there wasn't plenty of sexual tension! We all knew that Jeannie loved him and on December 2,1969, she got her man. Tony and Jeannie got married in the episode "The Wedding."
Jeannie had a twin sister, Jeannie II (also Barbara Eden), who was the opposite of our Jeannie in that she had been married 47 times and was looking at Tony with very eager eyes. Jeannie II is always trying to interfere with the relationship so she can make Tony #48!
There were TV Movie sequels. "I Dream of Jeannie:15 Years Later" on October 20, 1985 with Wayne Rogers as Tony (Larry Hagman was now J.R. Ewing) and then "I Still Dream of Jeannie" on October 20 1991.
Passings
Emmaline Henry died in 1979 of brain disease
Hayden Rorke died in 1987
Larry Hagman passed away of liver cancer in 2012
I Dream of Jeannie Trivia
Barbara Eden's navel
You never saw Barbara Eden's navel in the original "I Dream of Jeannie." Why? The network banned it. However, by "I Dream of Jeannie: 15 Years Later" standards had changed and now those waist high harem pants no longer had to hide Jeannie's navel!
---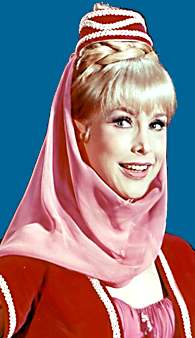 Barbara Eden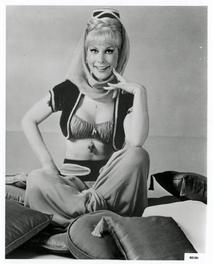 Barbara Eden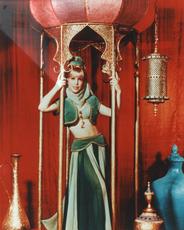 Click to Buy This Picture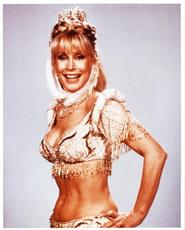 Barbara Eden
I Dream of Jeannie Trivia
Michael Ansara
Barbara Eden's (then) real life husband, Michael Ansara, made three appearances on I Dream of Jeannie. (Eden and Ansara were divorced in 1974.)Happy Anniversary" 9/12/1966
as Blue Djinn"Battle of Waikiki" 1/2/1968
as King Kamehameha
My Sister the Home Wrecker" 12/9/1969 as Biff Jellico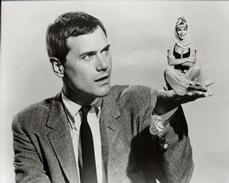 Click to Buy This Picture

I Dream of Jeannie Trivia
Jeannie's History
Jeannie was born in Bagdad, Iraq on April 1, 64 B.C. When she was old enough, Blue Djinn, the most powerful of the genies, wanted to marry her, but Jeannie rejected him. To punish her for the insult, he turned her into a genie and confined her in a bottle which he put on an uninhabited island so she would be lonely forever.