Buy The Jeffersons on DVD
---
The Jeffersons
January 18, 1975 – July 2, 1985
(253) one half hour episodes (11 seasons)
in color CBS
Created by: Don Nicholl, Michael Ross and Bernie West
Developed by: Norman Lear
Opening theme
"Movin' On Up" written and performed by Ja'net Dubois
Movin' On Up
Well we're movin on up,
To the east side.
To a deluxe apartment in the sky.
Movin on up,
To the east side.
We finally got a piece of the pie.
Fish don't fry in the kitchen;
Beans don't burn on the grill.
Took a whole lotta tryin',
Just to get up that hill.
Now we're up in the big leagues,
Gettin' our turn at bat.
As long as we live, it's you and me baby,
There ain't nothin wrong with that.
Well we're movin on up,
To the east side.
To a deluxe apartment in the sky.
Movin on up,
To the east side.
We finally got a piece of the pie.
CAST
Sherman Hemsley
Isabel Sanford
Marla Gibbs
Mike Evans
Damon Evans
Berlinda Tolbert
Franklin Cover
Roxie Roker
Paul Benedict
Zara Cully
Ned Wertimer

George Jefferson
Louise Jefferson
Florence Johnston
Lionel Jefferson
Lionel Jefferson
Jenny Willis Jefferson
Tom Willis
Helen Willis
Harry Bentley
Mother Jefferson
Ralph Hart
STORYLINE
It is said that in the 1970s Norman Lear could do no wrong and with hit sitcoms like All in the Family, Sanford and Son, One Day at a Time, Good Times, Maude and the Jeffersons you can see why. The Jeffersons was a direct spin-off from All in the Family with George, Louise and Lionel making numerous appearances as Archie Bunker's neighbors.
George Jefferson (Sherman Hemsley) owned a chain of dry cleaning stores. He grew the chain from a single store which he was able to start thanks to a car accident settlement. His wife Louise (Isabel Sanford) was a stay at home Mother raising Lionel (Mike Evans). They decide to move out of Archie's neighborhood and into a highrise apartment in Manhattan. They hire a housekeeper Florence Johnston (Marla Gibbs) whose wise crack remarks to her boss, George, account for alot of the humor in the series.
The character Lionel was actually played by two different actors. Mike Evans, the original Lionel, left the show to write and co-produce Good Times in 1976, he was replaced by Damon Evans. When Good Times ended in 1979 Mike Evans returned to the Jeffersons.
The Jeffersons did very well in the ratings until its last (11th) season. CBS canceled the show without filming a final, farewell episode or even informing the cast. Both Sherman Hemsley and Isabel Sanford were surprised when they read about the series demise in the paper. How tacky CBS!
Video Clip of The Jeffersons
Passings
Isabel Sanford died in 2004 of complications from carotid artery surgery, she was 86
Sherman Hemsley passed away of lung cancer in 2012, he was only 74
Roxie Roker died in 1995 of breast cancer, she was only 66
Franklin Cover passed of a heart condition in 2006, he was 77
Paul Benedict died of unknown causes in 2008, he was only 70
Mike Evans die in 2006 of throat cancer, he was only 57
Zara Cully died of lung cancer in 1978, she was 86
Ned Wertimer died of complications from fall in 2013, he was 89
Ja'Net DuBois died naturally in 2020 she was only 74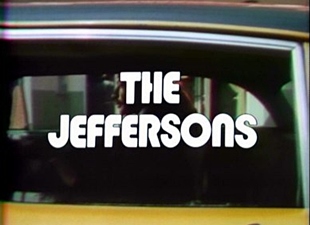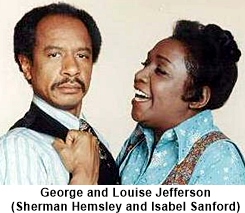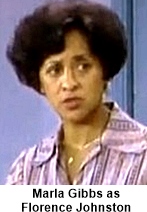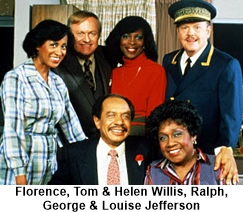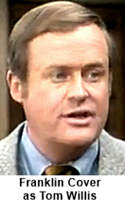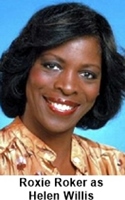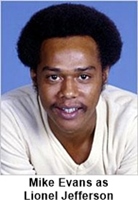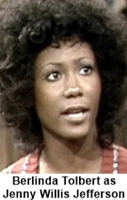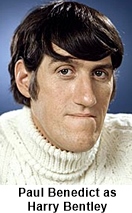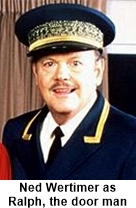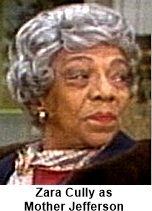 TRIVIA:
Norman Lear created the character of George Jefferson specifically for Sherman Hemsley. When All in the Family was ready to add the Jeffersons as neighbors, thus setting up for a possible spin-off, Hemsley was busy doing a play on Broadway. Lear waited until Hemsley was available not wanting to substitute another actor in the mean time.
Hemsley didn't particularly like the George Jefferson character, he felt that he was to racist. As a professional however he played the character the way he was written. Sherman Hemsley didn't miss a day of shooting in the eleven year run.