NOW ON DVD!
Season 1
Season 2, Vol. 1
Season 2, Vol. 2
Season 3
Jetsons
9/23/1962 – 9/8/1963
ABC 30 minutes
Color
Sept. 1962- Sept. 1963
Sun. 7:30-8:00PM
Created by William Hanna and Joseph Barbera
Cast (Voices)
George O'Hanlon as George Jetson
Penny Singleton as Jane
Janet Waldo as Judy
Daws Butler as Elroy Jetson/Henry Orbit/W.C. Cogswell
Mel Blanc as Cosmo S. Spacely/Additional Voices
Jean Vander Pyl as Rosie the Robot/Mrs. Starla Spacely
Don Messick as Astro/R.U.D.I
Theme Song
"The Jetsons Theme" by Hoyt Curtin
Tidbits
Jetsons was the 21st Century version of the Flintstones. Produced by Hanna Barbera, it didn't do as well as its stone age counterpart in its initial run. However, it remained popular on Saturday mornings and in syndication on all three major networks for years to come.
George Jetson worked for Spacely Space Sprockets and his boss was Cosmo G. Spacely. He has a wife Jane, a fifteen year old daughter Judy and an eight year old son Elroy.
They live in the Skypad Apartments which boast the futuristic feature of elevating to avoid bad weather! Rosie (later Rosey) was the robot maid and Astro was the original dog.
In 1985 and 1987 they filmed additional episdoes to add to the inventory. A new pet, Orbity was added. In 1990 it was made into a feature film.
For Extra Info:
TV Guide's Jetsons Page, with TV Listings, Photos, Videos, Exclusive News and More.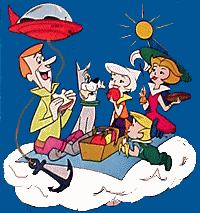 The Family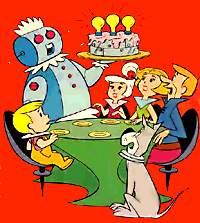 Rosey the mechanical maid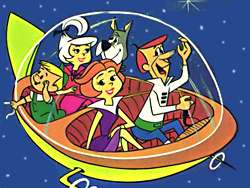 The Family Sedan