Buy Kojak on DVD
---
Kojak
October 24, 1973 – March 18, 1978
118 one-half hour episodes (5 seasons) in color on CBS
Created by: Abby Mann
Produced by: Abby Mann, James Duff McAdams and Matthew Rapf
CAST
Telly Savalas
Dan Frazer
Kevin Dobson
George Savalas
Mark Russell
Vince Conti

Lt. Theo Kojak
Captain Frank McNeil
Det. Bobby Crocker
Det. Stavros
Det. Saperstein
Det. Rizzo
STORYLINE
"Who loves ya, baby?"
Telly Savalas nails this role as Lieutenant Theodore Kojak. Kojak is a debonair hard hitting straight talking NYPD detective whose righteous attitude and fair mindedness leads him to solve even the most bizarre crimes. Along with his commander Captain Frank McNeil (Dan Frazer) and four fellow detectives Det. Bobby Crocker (Kevin Dobson), Det. Stavros (George Savalas), Det. Saperstein (Mark Russell), and Det. Rizzo (Vince Conti) they put the criminals behind bars where they belong.
The character Kojack first appears in an Abby Mann TV movie named "The Marcus-Nelson Murders" which was based on a real life Manhattan murder case. Telly Savalas starred in this movie which then served as the pilot for Kojak (the spelling was changed for the television series)
The series was canceled in 1978 after 5 seasons due to low ratings. It was however highly successful in syndication and in 1985 Savalas returns Kojak to the TV screen in seven movies which aired on first CBS then ABC over the next couple of years.
Video Clip of Kojak Intro
Passings
Telly Savalas died in 1994 of prostate cancer, he was only 72
Dan Frazer died of a cardiac arrest in 2011, he was 90
George Savalas died in 1985 of leukemia, he was only 60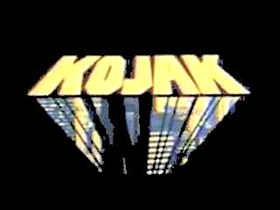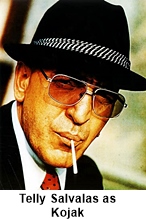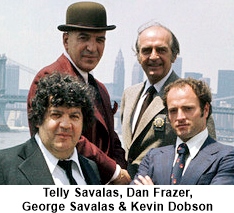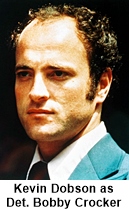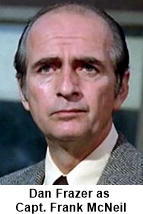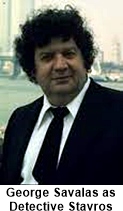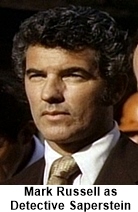 TRIVIA:
Telly Savalas was a cigarette smoker who like most smokers in the 1970s was trying to quit. Sucking on a lollipop every time he craved a cigarette was one of the methods he used. His character, Kojak also smoked, so the lollipop became a staple for him on air as well. The producers thought that it added real depth to the character so they encouraged it. Kojak would quip to whomever asked him about it, that he was trying to get in touch with his younger self.