Buy Laverne & Shirley on DVD
Laverne & Shirley
January 27, 1976 – May 10, 1983
(178) one half hour episodes (8 seasons)
in color ABC
Created by: Garry Marshall, Lowell Ganz and Mark Rothman
Opening theme
Written By: Norman Gimbel and Charles Fox
Performed By: Cyndi Grecco
"Making Our Dreams Come True"
One, two, three, four, five, six, seven, eight.
Schlemeel, schlemazel, hasenfeffer incorporated.
We're gonna do it!
Give us any chance, we'll take it.
Give us any rule, we'll break it.
We're gonna make our dreams come true.
Doin' it our way.
Nothin's gonna turn us back now,
Straight ahead and on the track now.
We're gonna make our dreams come true,
Doin' it our way.
There is nothing we won't try,
Never heard the word impossible.
This time there's no stopping us.
We're gonna do it.
On your mark, get set, and go now,
Got a dream and we just know now,
We're gonna make our dream come true.
And we'll do it our way, yes our way.
Make all our dreams come true,
And do it our way, yes our way,
Make all our dreams come true
For me and you.
CAST
Penney Marshall
Cindy Williams
David L. Lander
Michael McKean
Eddie Mekka
Betty Garrett
Phil Foster

Laverne DeFazio
Shirley Feeney
Andrew "Squiggy" Squiggman
Leonard "Lenny" Kosnowski
Carmine "The Big Ragoo" Ragusa
Edna Babish
Frank DeFazio
STORYLINE
Laverne & Shirley was a spin-off of Happy Days, both were Garry Marshall productions. Set in the late 1950s in Milwaukee the two girls who are childhood friends, who share a basement apartment and work at the same brewery, as bottle cappers.
Also in the cast are Lenny (Michael McKean) and Squiggy (David L. Lander) who are upstairs neighbors of the girls. Frank De Fazio (Phil Foster) is Laverne's father and owner of the Pizza Bowl which is a local hangout like Arnold's in Happy Days but with bowling. Edna Babish (Betty Garrett) is the girls landlady and later marries Laverne's dad becoming her step-mother. Carmine Ragusa (Eddie Mekka) is Shirley's ex-boyfriend who still has an on again off again relationship with her. Both Betty Garrett and Eddie Mekka get the chance to showcase their singing and dancing talents in a few episodes.
The series moves to California in the sixth season with the girls getting jobs at a department store as gift wrappers. In the eighth (final) season Cindy Williams departs the show and Penney Marshall continues the season without the Shirley character. Marshall is asked to do another solo season but she wanted the show moved to New York but ABC felt that move couldn't be cost effective so the series wasn't renewed for the 1983-'84 season.
Video Clip of Laverne & Shirley
Passings
Phil Foster passed away in 1985 of a heart attack, he was only 72
Betty Garrett died of a aortic aneurysm in 2011, she was 91
Penney Marshall was 75 when she died in 2018 of heart failure and diabetes
David Lander passed of multiple sclerosis in 2020 he was 75
Eddie Mekka died in 2021 he was only 69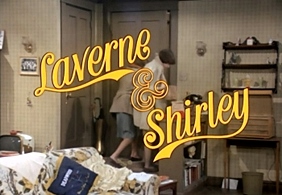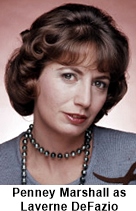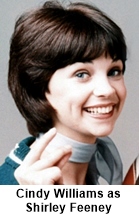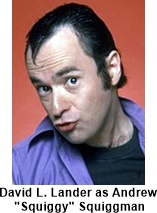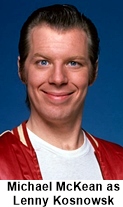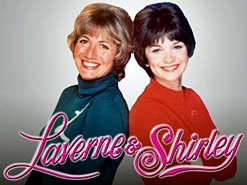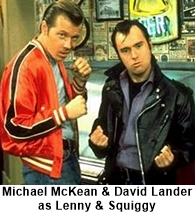 TRIVIA:
Cindy Williams became pregnant during the 1982-1983 season. She asked the studio for certain considerations (demands) during and after the pregnancy which they promptly refused. She was forced to leave the series for which she filed a 20 million dollar lawsuit. The suit was eventually settled out of court with Williams getting her fair share.
OTHER TRIVIA
Michael McKean and David L. Lander were originally hired as writers/consultants on the series. They convinced the studio to let them write themselves into the show as "Lenny" and "Squiggy", who were based on two characters they had developed while in college.