7/2/55 – 9/4/1971 ABC 1 Hour
60 minutes
Black and White/Color
Lawrence Welk Show Cast
Lawrence Welk – host
Champagne Ladies – Alice Lon (1955-1959), Norma Zimmer (1960-1982)
Dick Dale – Featured Performer (1955-1982)
Bobby Burgess – Dancer (1961-1982)
Lennon Sisters (Diane, Peggy, Kathy, Janet) – Featured Performers (1955-1968)
Also:
Aladdin (violin)(1955-1967)
Jerry Burke (piano-organ) (1955-1965)
Myron Floren (accordian) (1955-1971)
Larry Hooper (piano, vocals) (1955-1971)
Bob Lido (violin) (1955-1971)
Buddy Merrill (guitar) 1955-1971)
Jim Roberts (vocals) (1955-1971)
Rocky Rockwell (trumpet, vocals) (1955-1962)
Pete Fountain (clarinet) (1957-1959)
Lawrence Welk Show Theme Song
"Bubbles in the Wine" by Lawrence Welk, Frank Loesser and Bob Calame
Lawrence Welk Show Tidbits
Clean, wholesome, straight. Very straight, actually. Lawrence Welk didn' t have much pizazz, but he endured. He saw his course and he stuck with it.
The show presented tunes in a plain manner. No jazzy renditions. Pete Fountain quit over Welk's refusal to let him perk up a Christmas Carol. Fountain, widely recognized as one of the world's best jazz musicians didn't understand that Welk did not tamper with the classics.
The show had the feel of a family and to his credit, Welk allowed members of the band to solo on the show. Welk imbued his TV family with a moral code as well. Champagne Lady Alice Lon got fired for supposedly showing too much leg. When the public protested, he tried to get her back but to no avail.
Having told that little tale, most of Welk's people stayed with him across decades!
None of the performers were more popular than the Lennon Sisters. We watched them grow up on Lawrence Welk. Diane left in 1960 to get married and the group was a trio.
Of note, the Bobby Burgess who danced from 1961-1967 was a former Mousketeer.
Passings
Lawrence Welk died in 1992 of pneumonia.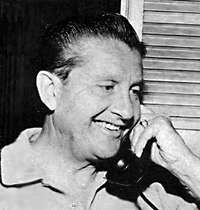 Lawrence Welk


Lennon Sisters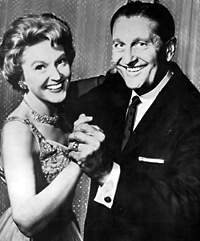 Lawrence Welk with Norma Zimmer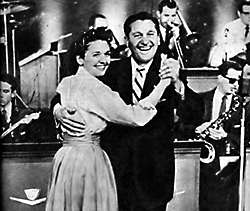 Lawrence Welk
Closing song from The Lawrence Welk Show


Lennon Sisters
Diane, Peggy, Kathy and Janet Lennon