Buy Movin' On on DVD
These two DVD's are listed on Amazon but both were sold out at the time of this posting
The Best Of Vols. 1-8
The Best of: Vol 21
Here is an available copy on ebay: Movin' On
May 8, 1974 – March 2, 1976
46 one hour episodes (2 seasons) in color on NBC
Created by: Philip D'Antoni and Barry J. Weitz
Produced by: Ernie Frankel and Joseph Gantman
CAST
Claude Akins
Frank Converse
Roosevelt Grier
Ned Austin

Sonny Pruitt
Will Chandler
Benjy
Daniel Boonley
Theme Music
Movin' On
BY: Merle Haggard
Big wheel's rollin', big wheel's rollin', movin' on
Big wheel's rollin', gotta keep 'em goin'
Big wheel's rollin', movin' on
The white line is a lifeline to the nation
And men like Kix and Ronnie make it move
Livin' like a gypsy, always on the go
Doin' what they best know how to do
Jammin' gears has got to be a fever
'Coz men become addicted to the grind
(The grind)
It takes a special breed to be a truck drivin' man
And a steady hand to pull that load behind
Big wheel's rollin', big wheel's rollin', movin' on
Big wheel's rollin', gotta keep 'em goin'
Big wheel's rollin', movin' on
Movin' on, yeah
All night country music keeps 'em goin'
Kix and Ronnie keep on movin' on
Hey, big hot cup of coffee, is waitin' up ahead
An' the rhythm of the highway hums along
Jammin' gears has got to be a fever
'Coz men become addicted to the grind
It takes a special breed to be a truck drivin' man
And a steady hand to pull that load behind
Big wheel's rollin', big wheel's rollin', movin' on
Big wheel's rollin', gotta keep 'em goin'
Big wheel's rollin', movin' on
Yeah, oh you been drivin' all night long, movin' on
Why don't you let me
Take the wheel for a while, what's that?
Hey, buddy, aren't you supposed
To have your eyes open? We're gone
STORYLINE
The pilot episode for Movin' On was a made-for-television movie called In Tandem. The movie begins with Will Chandler (Frank Converse) losing control of his big rig and almost crashing, due to faulty maintenance by the company he drives for. He stops at the nearest truck stop, quits his job and just happens to meet Sonny Pruitt (Claude Akins) a independent trucker with his own rig. The two hit it off and form a driving partnership which has them traveling all over the country hauling almost anything that pays and getting into all kinds of adventures.
One of the great things about this series was the location shooting which showcased many beautiful locations mostly in the west. Another draw of the show was the use of CB radios. The country was just learning about this wonderful communications tool (long before cell phones or internet) and the series helped to popularize it. Even kids could get in on the act with Sonny and Will CB walkie talkies.
The theme song for the series titled Movin' On by Merle Haggard was so popular that it charted at #1 on the C&W charts.
Video Clip of Movin' On Intro
Passings
Claude Akins passed in 1997 of cancer, he was only 67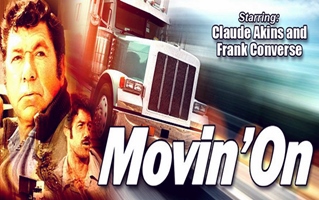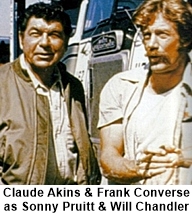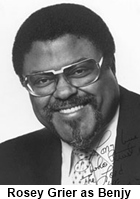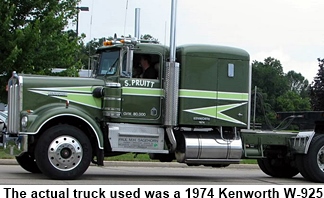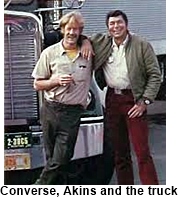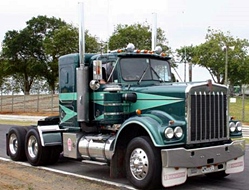 TRIVIA:
The truck in the series was a 1974 Kenworth W900 VIT, which was a custom made job for MGM by Kenworth. Two trucks were used each season, because of the wear and tear of filming one truck almost always was being repaired or repainted.
The show was of course a favorite in the trucking community but also the President, Gerald Ford, admitted that it was his guilty pleasure as well.