September 24, 1963 – August 31, 1965
(60) 1/2 hour episodes (two seasons)
in B&W   on NBC
Created by: E. Jack Neuman
Produced by: Joseph Calvelli and MGM Television
CAST
James Franciscus   —   John Novak
Dean Jagger   —   Principle Albert Vane (Season 1)
Burgess Meredith   —   Principal Martin Woodridge (Season 2)
Other cast that appeared in 2 or more episodes
Charles Briles   —   Ken
Vince Howard   —   Mr. Pete Butler
Marjorie Corley   —   Miss Dorsey
Beau Bridges   —   Jaylee Bartlett
Walter Koenig   —   Alexsei Dubov
Edward Asner   —   Harmon Stern
Martin Landau   —   Robert Coolidge
Shelley Fabares   —   Dani Cooper
Johnny Crawford   —   JoJo Rizzo
Don Grady   —   Hank Nelby
Bonnie Franklin   —   Sally
Cloris Leachman   —   Dorothy Hummer
Tommy Sands   —   Gary Lewin
STORYLINE
John Novak (James Franciscus) just got his first teaching job at a Los Angeles high school. He is young, idealistic and dedicated to keeping his students in school and actually teaching them something.
His boss, Principle Vane (Dean Jagger) doesn't always approve of Novak's methods but he admires his dedication to the students and his ethics. Principle Vane gets promoted out of the series in season 2 (Dean Jagger leaves the show for another opportunity) and Principle Woodridge (Burgess Meredith) takes over.
This show reflected the high moral standards of the day. Mr. Novak was intelligent, principled and ethical. He truly cared for his students educational needs and constantly strived to get them to do the right thing wether it be in or out of the classroom.
Video Clip of Mr. Novak
Passings
James Franciscus died in 1991 of emphysema, he was 57
Dean Jagger also died in 1991 from heart disease, he was 87
Burgess Meredith died in 1997 from complications of Alzheimer's disease, he was 89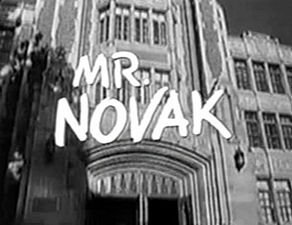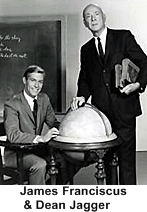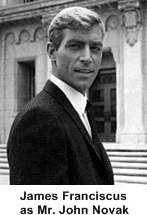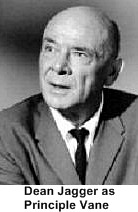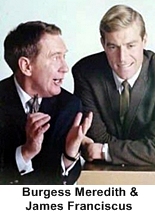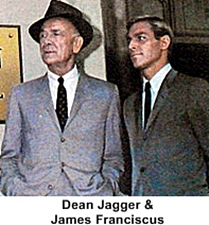 Buy Mr. Novak on DVD
This show has not been released on DVD, when it is I will post it here.