Buy The Odd Couple on DVD
September 24, 1970 – March 7, 1975
(114) one half hour episodes (5 seasons)
in color ABC
Based On: The Odd Couple by Neil Simon
Developed and Produced By: Garry Marshall and Jerry Belson
Theme Music
Neal Hefti
Opening Narrative
Voiced by: William Woodson
On November 13, Felix Unger was asked to remove himself from his place of residence.
That request came from his wife.
Deep down, he knew she was right, but he also knew that someday, he would return to her.
With nowhere else to go, he appeared at the home of his childhood friend, Oscar Madison.
Sometime earlier, Madison's wife had thrown him out, requesting that he never return.
Can two divorced men share an apartment without driving each other crazy?"
CAST
Tony Randall
Jack Klugman
Al Molinaro
Penny Marshall

Felix Unger
Oscar Madison
Murray
Myrna
STORYLINE
The Odd Couple was a very successful play by Neil Simon. Garry Marshall thought it would make a great television sitcom so along with Jerry Belson they sold the idea to ABC.
Felix Unger (Tony Randall) was a neat-freak, compulsive cleaner fastidious photographer, while Oscar Madison (Jack Klugman) was a slovenly, untidy, casual sportswriter for a fictional N.Y. newspaper. They were both recently divorced and thought it would be convenient to share an apartment. The humor in the series arises from their constant conflicts over lifestyles and attitudes.
Supporting characters included Murray the Cop (Al Molinaro) [later to appear in Happy Days]  who was part of Oscar's poker group, Myrna Turner (Penny Marshall) [later to appear in Laverne and Shirley]  Oscar's secretary.  Dr. Nancy Cunningham (Joan Hotchkis) was Felix's Doctor and Oscar's girlfriend in the first season.
The series was nearly canceled at the end of each season due to poor ratings but high summer re-run ratings and (4) Emmy nominations always seemed to force ABC into renewing it.
Video Clip of The Odd Couple
Passings
Tony Randall died of complications from coronary bypass surgery in 2004 , he was 84
Jack Klugman passed in 2012 of prostate cancer, he was 90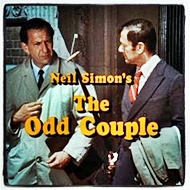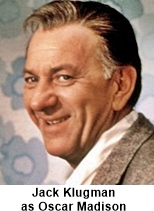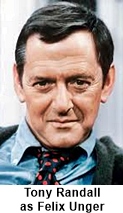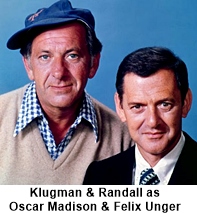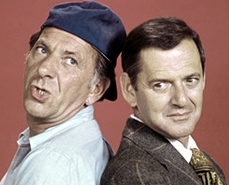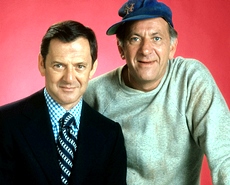 TRIVIA:
There were two guest stars who appeared in multiple episodes as themselves. The first was Monte Hall who supposedly was a college friend of Oscar's. The second was Howard Cosell who as another sports writer was Oscar's major professional competition. Interestingly the episodes where either of them appeared got higher Nielsen ratings.
Another cameo appearance came from Neil Simon who originally had refused to endorse the tv series but after viewing a season, fell in love with it and agreed to do the cameo as his seal of approval.