Buy Peter Gunn on DVD
Season One (1958)
Season Two (1959)
Season Three – The Final Season (1960)
The Complete Series (1958 – 1961)
September 22, 1958 – September 18, 1961
(114) thirty minute episodes (three seasons)
in B&W on NBC (1958 -60) & ABC (1960-61)
Produced by: Blake Edwards with Spartan Productions
CAST
Craig Stevens … Peter Gunn
Herschel Bernardi … Lieutenant Jacoby
Lola Albright … Edie Hart
Byron Kane … Barney
Bill Chadney … Emmett
Hope Emerson … Mother (1958-59)
Minerva Urecal … Mother (1959-60)
Billy Barty … Babby (occasional)
Opening Theme
"Peter Gunn Theme", by Henry Mancini
this piece of music won an Emmy Award and two Grammys
STORYLINE
This show was the first "private eye" show to break the Sam Spade, Philip Marlowe mold of what a private detective should look and act like. Peter Gunn (Craig Stevens) was cool, sophisticated, urbane, well groomed and polished. He preferred cool jazz, old scotch, expensive suits and beautiful women.
His love interest was the singer Edie Hart (Lola Albright)at his favorite jazz club, Mother's. She eventually gets her own bar but she remains Gunn's gal throughout the series.
Gunn had his circle of confidants who would provide him with information which would eventually lead to solving the case. Lieutenant Jacoby (Herschel Bernardi)was his best source for information and new clients. Being a police officer Jacoby's hands were often tied by police procedure so he counted on Gunn to work outside of the rules to help the victims of whatever dastardly deed had befallen them.
Billy Barty played pool hustler Babby and Herbert Ellis portrayed Beat a bistro owner, they both appeared in several episodes as informants.
Another source of "underground" information was Mother, owner of the jazz club where Edie Hart sang. The character was originally played by Hope Emerson but due to failing health she was replaced after the first season. Minerva Urecal took over the role in subsequent seasons.
Video Introduction to Peter Gunn
Passings
Craig Stevens passed away in 2000 of cancer, he was 81
Herschel Bernardi died in 1986 of a sudden heart attack, he was 62
Byron Kane passed in 1984, he was 60
Hope Emerson died of liver disease in 1960, she was 62
Minerva Urecal passed away in 1966 of a heart attack, she was 71
Billy Barty died of heart failure in 2000, he was 76
Lola Albright passed in 2017, she was 92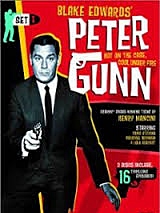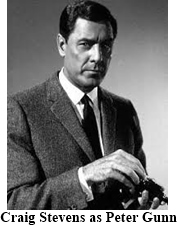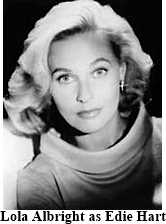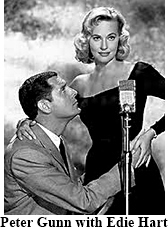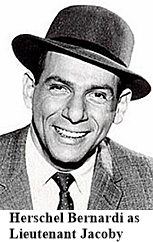 TRIVIA:
The pianist who played the well known piano portion of the "Peter Gunn Theme" was future film composer John Williams
Williams has won 5 Academy Awards with 48 Academy Award nominations, 4 Golden Globe Awards, and 21 Grammy Awards.