September 25, 1973 – May 28, 1978
95 one hour episodes (5 seasons) in color on NBC
Created by: Joseph Wambaugh
Produced by: David Gerber and Mel Swope
CAST
The series was an anthology, however the following actors appeared in multiple episodes
Scott Brady
Tony Lo Bianco
Don Meredith
Vic Morrow
James Farentino
Angie Dickinson
Lloyd Bridges

Vinnie (bar owner)
Det. Tony Calabrese
Det. Bert Jameson
Det. Joe LaFrieda
Det. Charlie Czonka
Det. Lisa Beaumont
Ofc. Joe Forrester
Opening Theme
Jerry Goldsmith
STORYLINE
Police Story was an anthology format series so character development was pretty much done on a episode by episode basis. The main character was the police work and the bond that ties all police officers together. The series showcased various departments and divisions within the Los Angles Police Department with patrol officers, detectives, supervisors and undercover operatives getting fairly equal air time.
With all that being said however several characters were in multiple episodes. Vinnie (Scott Brady) was a retired officer who owned a neighborhood "cop" bar and was always a good listener for the cops to vent their frustrations. Det. Tony Calabrese (Tony Lo Bianco) and Det. Bert Jameson (Don Meredith) were Robbery/ Homicide detectives and were often featured as was Det. Sally Pickle (Joe Santos).
Three spin-offs were created from characters who only appeared in a single episode that was designed to launch the new shows. A first-season episode, "The Gamble," starring Angie Dickinson as Lisa Beaumont, became the pilot for
"Police Woman". Lloyd Bridges starred in a new series called "Joe Forrester" after a second season episode titled "The Return of Joe Forrester". David Cassidy was in the episode "A Chance to Live" which led to his unsuccessful spin-off "Man Undercover".
Video Clip of Police Story Intro
Passings
Scott Brady passed away in 1985 of pulmonary fibrosis, he was only 60
Don Meredith died of a brain hemorrhage in 2010 he was only 72
Vic Morrow died in 1982 of an accident while filming The Twilight Zone, he was only 53
James Farentino died in 2012 of heart failure, he was just 73
Lloyd Bridges died in 1998 of natural causes, he was 85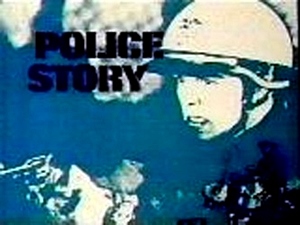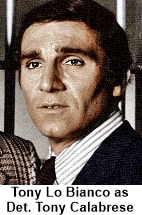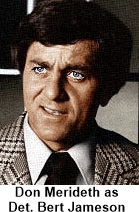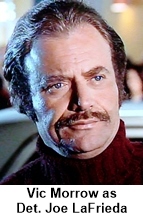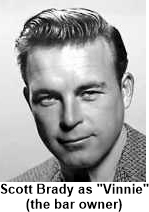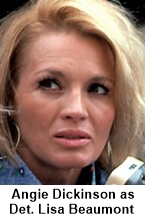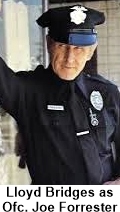 TRIVIA:
Police Story fathered three spin-off series. They were Police Woman with Angie Dickinson which ran for 4 seasons, Joe Forrester starring Lloyd Bridges only went one season and Man Undercover with David Cassidy which only survived for ten episodes.
Police Story was also the most realistic depiction of police work that had been seen on tv up to that time and paved the way for later shows like Hill Street Blues and NYPD Blue.