9/30/1958 – 7/13/1963 ABC
Black and White – 30 minutes – 169 episodes
Sept 1958-Sept. 1960 Tuesday 9:00-9:30
Sept 1960-Sept. 1961 Tuesday 8:00-8:30
Oct. 1961-July 1963 Monday 8:30-9:00
Produced by Arthur Gardner, Arnold Laven and Jules Levy
Rifleman Cast
Chuck Connors as Lucas McCain
Johnny Crawford as Mark McCain
Paul Fix as Marshal Micah Torrance
Bill Quinn as Sweeney the bartender
Hope Summers as Hattie Denton the storekeeper
Patricia Blair as Lou Mallory as hotelier
Horses: Razor (Lucas)and Blue Boy (Johnny)
Rifleman Theme Song
"The Rifleman" by Herschel Burke Gilbert
Rifleman Tidbits
Lucas McCain (Chuck Connors) was a widowed rancher living outside of North Fork, New Mexico and trying to raise his young son, Mark (Johnny Crawford). Although how he had time to ranch is a mystery as he was always in town confronting a desperado.
McCain's specialty was his skill with his rifle, a specially modified Winchester with a large ring that cocked it as he drew. Supposedly, he could fire within 3/10 of a second. Now that's fast.
The first season was the best. In retropsect this series was somewhat darker than other Westerns. As time passed Lucas got a bit preachy. Always moralizing about something.
To lighten things up, in 1962 they brought Lou Mallory (Patricia Blair) on board as she worked life's grey areas a bit. She was a love interest for McCain, who, not to put too fine a point on it, needed a love life.
Johnny Crawford was often reduced to finding new and creative ways of saying, "oh, Pa" and "I'm sorry, Pa."
Passings
Paul Fix died in 1983, Chuck Connors in 1992 of lung cancer and Johnny Crawford passed in 2021 of Alzheimer's he was 75./vc_column_text]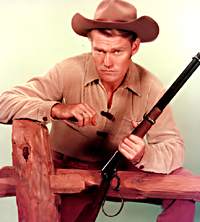 Chuck Connors
From the Doug Abbott Collection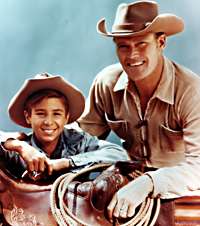 Johnny Crawford and Chuck Connors
From the Doug Abbott Collection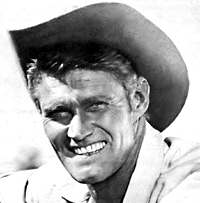 Chuck Connors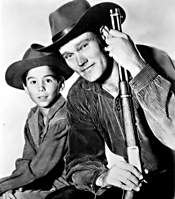 Johnny Crawford and Chuck Connors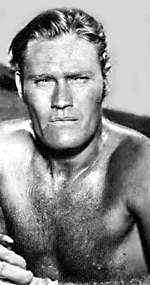 Chuck Connors
BUY Rifleman on DVD
The Rifleman
The Rifleman, Boxed Set 2
The Rifleman Boxed Set 3
The Rifleman: Boxed Set Collection 5
The Rifleman Box Set Collection 6
External Links
TV Guide's Rifleman Page, with TV Listings, Photos, Videos, Exclusive News and More.
Rifleman Trivia
Did you know that Chuck Conners played Major League Baseball
He played 61 games for the Chicago Cubs in 1951. He also played for the NBA Boston Celtics.
Michael Ansara would play his Law of the Plainsman character of Marshal Sam Buckhart in two Rifleman epsiodes. "The Indian" (episode # 1.21) February 17, 1959 and "The Raid" (episode # 1.37) June 9,1959.