January 14, 1972 – March 25, 1977
135 one-half hour episodes (6 seasons) in color on NBC
Developed and Produced by: Bud Yorkin and Norman Lear
Opening Theme : "The Streetbeater"
Composed by: Quincy Jones
CAST
Redd Foxx
Demond Wilson
LaWanda Page
Whitman Mayo
Don Bexley

Fred G. Sanford
Lamont Sanford
Aunt Esther Anderson
Grady Wilson
Bubba Bexley
STORYLINE
Sanford and Son was a Norman Lear sitcom about Fred Sanford (Redd Foxx) a cantankerousness widowed old junk dealer and his more level headed son Lamont (Demond Wilson). Together they own a junk yard in the Watts area of Los Angeles. Frequent visitors to the yard include Aunt Esther Anderson (LaWanda Page) who is Fred's sister-in-law and constant thorn in his side, Grady Wilson (Whitman Mayo) who is Fred's closest friend and Bubba Bexley (Don Bexley) another of Fred's friends.
The show was ground breaking in that it was the first prime time successful television series with an all African American cast. It was adapted from a British sitcom titled Steptoe and Son and even used many of the original sitcom's scripts.
After the sixth season, Redd Foxx quit the show to do Redd Foxx (1977). The series was set to continue with Demond Wilson (Lamont) as the lead. But Wilson left due to a salary dispute. The show was retooled and became Sanford Arms (1977) which with neither Foxx or Wilson died after only four episodes.
Video Clip of Sanford and Son Intro
Passings
Redd Foxx died in 1991 of a heart attack, he was only 68
LaWanda Page died of complications from diabetes in 2002, she was 81
Whitman Mayo died in 2001 also of a heart attack, he was only 70
Don Bexley died of heart and kidney failure in 1997, he was 87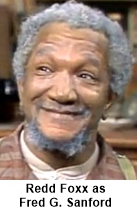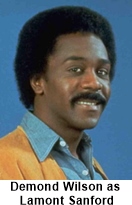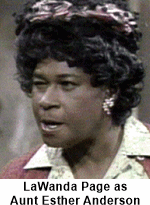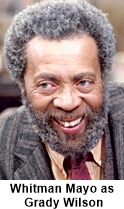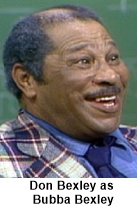 TRIVIA:
A running gag throughout the series was that whenever things did not go Fred's way, Fred would clutch his chest and fake having a heart attack, shouting out variations of "Hear that Elizabeth? I'm coming to join you honey!", yet no one would fall for his ruse. Ironically, this running gag would years later be considered contributory to Redd Foxx's death from a real heart attack.
In 1991, during filming of the series The Royal Family, Foxx started complaining of chest pains, the rest of the cast thought he was pulling a gag and started laughing, robbing him of several critical minutes of help. He died later that night at the hospital.