December 1, 1976 – July 28, 1978
(37) half hour episodes (2 seasons)
in color on NBC
Produced by: Aaron Ruben
CAST
Don Rickles
Peter Isacksen
Elizabeth Allen
Harrison Page
Richard X. Slattery
David Landsberg
Richard Beauchamp
Tom Ruben
Jeff Hollis
Barry Pearl
Jonathan Daly

C.P.O. Otto Sharkey
Seaman Pruitt
Capt. Quinlan
Chief Robinson
Captain Buckner
Recruit Skolnick
Recruit Rodriguez
Recruit Kowalski
Recruit Daniels
Recruit Mignone
Luit. Whipple
STORYLINE
This sitcom was written for Don Rickles whose humor mostly centers around racial and ethnic slurs. Rickles plays C.P.O. Sharkey who has a sharp tongue for any ethinicity that's not his own or any superiors that he has to answer to. He is a seasoned Chief Petty Officer in charge of new recruits at the San Diego Naval Base.
The humor stems from his one liners to the new recruits who are racially diverse. They consist of: Recruit Daniels (Jeff Hollis) a black American, Recruit Kowalski (Tom Ruben) a polish American, Recruit Skolnick (David Landsberg) a Jewish American, Recruit Rodriguez (Richard Beauchamp) an Hispanic-American and Recruit Mignone (Barry Pearl) an Italian American.
Although Sharkey it seemed was almost constanly yelling insults at his recruits he really had a heart of gold and helped them adjust to their new lives and out of the jams that they inevitabley got into. In season two Sharkey's commanding officer, Capt. Quinlan (Elizabeth Allen) was a woman but he treated her with respect, (Rickles comedy routine was always woman friendly, he just attacked everybody else!).
Video Clip of C.P.O. Sharkey
Passings
Elizabeth Allen died in 2006 of kidney disease, she was 77
Richard X. Slattery died in 1997, he was 71
Richard Beauchamp died in 1994, he was only 44
Don Rickles lived wonderfully for 90 years, he passed in 2017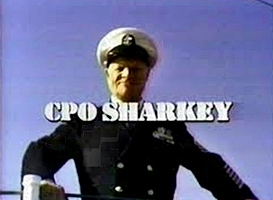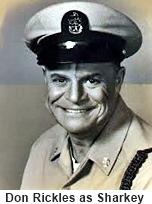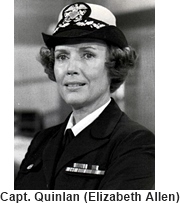 TRIVIA:
Johnny Carson played a joke on Don Rickles on the set of Sharkey. Below is that clip: